Gonzalo Lira 'Goes Missing' in Ukraine; Relatives Have Not Heard From Him Since April 15
Chris Menahan
InformationLiberation
Apr. 18, 2022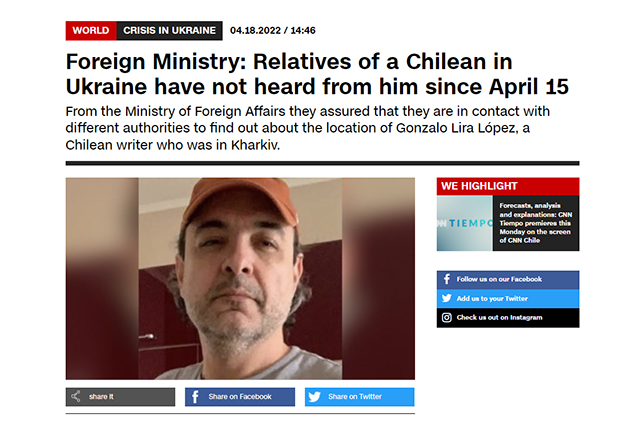 UPDATE: Gonzalo Lira resurfaced on Thursday and said he was detained by the SBU for a week and is under "investigation."

****

Gonzalo Lira, aka Coach Red Pill, has been radio silent for three days and many are fearing the worst.

Lira was unable to flee Ukraine after the war began and went viral for criticizing the Zelensky regime for releasing hardcore criminals from prison and arming them with assault rifles to fight the Russians. He said he's more afraid of the hordes of criminals Zelensky armed than the Russian military.




Lira had as his pinned tweet a message warning followers that if they haven't heard from him in 12 hours they should add him to the list of people tortured and murdered by Zelensky's thugs.


A Ukrainian neo-Nazi claimed he was captured but provided no proof.




The Chilean Foreign Ministry told CNN Chile they're aware he has gone missing and are "in contact with different authorities" trying to find him.


"If Gonzalo Lira has indeed been disappeared by Ukraine's SBU, he joins a long list of dissidents, leftists, human rights activists, and local officials kidnapped, tortured and even assassinated by Zelensky's death squads – and with Kiev's open support," the Grayzone's Max Blumenthal said Monday on Twitter.


Follow InformationLiberation on Twitter, Facebook, Gab, Minds, Parler and Telegram.