Shock Video Allegedly Shows Ukrainians 'Shooting And Torturing Russian Prisoners Of War'
Chris Menahan
InformationLiberation
Mar. 28, 2022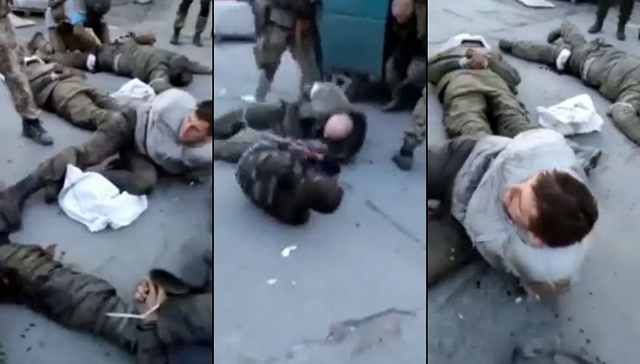 It appears as though Ukrainian officials' repeated announcements that they were going to start committing war crimes by torturing Russian prisoners of war wasn't just talk.

From The Gateway Pundit, "Shocking Videos Allegedly Show Ukrainians Shooting And Torturing Russian POWs":

Videos that surfaced late last night purportedly show members of the Ukrainian military shooting Russian POWs in the knees and beating them senseless.

Several correspondents from around the world have called on the International Criminal Court, which Ukraine has invited into their country, to investigate and verify these potential war crimes.

Videos allegedly showing Ukrainian soldiers shooting Russian prisoners of war in the knees have hit the internet alongside a series of clips from the Ukrainian army calling the families and loved ones of deceased Russian soldiers in order to mock their deaths. The footage embedded below is graphic and viewer discretion is advised.

While The Gateway Pundit is unable to independently verify the content of these videos, a foreign correspondent from the BBC has indicated that she reviewed the clips. "Seeing (not sharing) graphic videos from Ukraine. In accepting ICC jurisdiction, Ukraine has enabled ICC prosecutors to investigate allegations of war crimes and crimes against humanity on both sides," she tweeted. "Rhetoric from some politicians suggests focus on Russians alone." Reporters from Sweden's SVT and Bellingcat's Elliot Higgins have also acknowledged the release of the videos.
WARNING GRAPHIC:




Ukrainian soldiers also filmed themselves violating the Geneva Conventions by using civilian trucks to attack Russian forces.


Earlier this month, Ukraine's Special Operations Command announced on Facebook that Russian soldiers who try to surrender henceforth will be "slaughtered like pigs" while they're begging for mercy.




Gennadiy Druzenko, the head of a Ukrainian ambulance corps, boasted on Ukraine's Channel 24 that he "gave strict orders to castrate all the wounded" Russians "because they are cockroaches, not humans."


Channel 24 morning news host Fahruddin Sharafmal called for the genocide of Russian children in a TV broadcast that also went out to nearly 2 million subscribers on YouTube.


Russians With Attitude reported Sunday that the war crimes are likely going to lead to an escalation on both sides:






Follow InformationLiberation on Twitter, Facebook, Gab, Minds, Parler and Telegram.