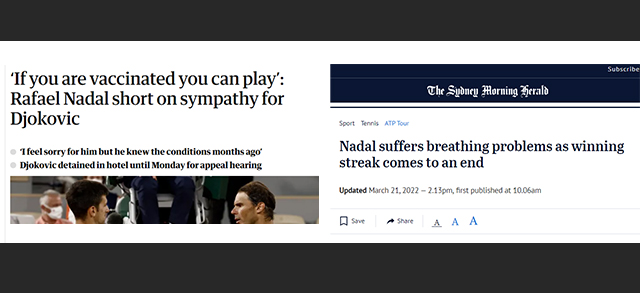 Nothing to see here, folks!

From The Sydney Morning Herald, "Nadal suffers breathing problems as winning streak comes to an end":

The Australian Open champion came into the match bothered by painful breathing that he first experienced in a three-set semi-final win. He took two medical timeouts during the final. The first one came after he lost the first set. Nadal went inside with a trainer after tapping his upper left chest. He got treatment on court after falling behind 5-4 in the second set.

"When I try to breathe, it's painful, and it's very uncomfortable. It's like a needle all the time inside. I get dizzy a little bit because it's painful. It's a kind of pain that limit me a lot," said Nadal, who turns 36 in June.

"The thing that worries me now, it's about what's going on there, what I have to do now to recover and how long going to take."
Video:



In other news, Nadal was "short on sympathy" for Novak Djokovic earlier this year for refusing to take the vax.

From The Guardian, "'If you are vaccinated you can play': Rafael Nadal short on sympathy for Djokovic":

"The only thing that I can say is I believe in what the people who know about medicine say, and if the people say that we need to get vaccinated, we need to get the vaccine. That's my point of view," said Nadal.

He continued: "I went through the Covid. I have been vaccinated twice. If you do this, you don't have any problem playing here. That's the only clear thing. The rest of the things, I don't want to have or to give to you an opinion that I don't have the whole information. The only clear thing for me is if you are vaccinated, you can play in the Australian Open and everywhere, and the world in my opinion has been suffering enough to not follow the rules."

Nadal was asked if he felt sorry for Djokovic given the torrid situation his rival is now in, but the Spaniard's response indicated that his sympathy was limited. Nadal said that decisions come with consequences, as has been the case for Djokovic after his decision to fly to Melbourne despite being unvaccinated.

"I think if he wanted, he would be playing here in Australia without a problem. He made his own decisions, and everybody is free to take their own decisions, but then there are some consequences. Of course I don't like the situation that is happening. In some way I feel sorry for him. But at the same time he knew the conditions since a lot of months ago, so he makes his own decision."
Now might be a good time to get a D-dimer test, Mr. Nadal.

Follow InformationLiberation on Twitter, Facebook, Gab, Minds, Parler and Telegram.