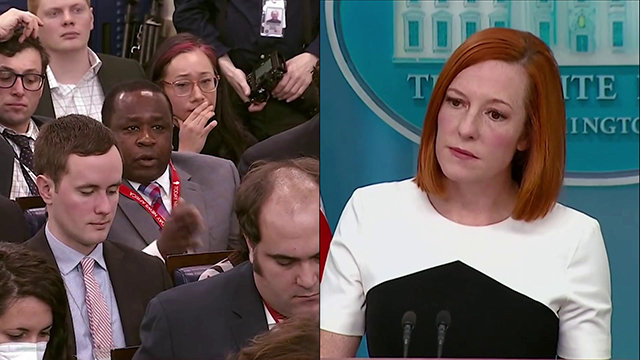 Today News Africa reporter Simon Ateba on Monday asked White House Press Secretary Jen Psaki what the US's "end game" is in Ukraine and questioned if their real goal was to push Ukrainians to "commit suicide" in a futile war to bog down the Russians.

WATCH:


Transcript:

ATEBA: I'm trying to understand where you're trying -- your endgame in Ukraine. You're not going there. You're not sending troops there. There will be no no-fly zone over Ukraine. And are you -- will it be a fair assessment to say that you are pushing these guys to commit suicide, knowing that Russia has a superpower and, eventually, it will capture the main cities, Kiev and Kharkiv, and other these cities around there? What's the endgame?

PSAKI: Well, the endgame is really a question for President Putin. We have -- we have completely crushed his economy. We have provided military assistance, humanitarian assistance to the Ukrainians, enabling them to fight back for far longer than the Russian leadership anticipated.

And, again, he has to -- he has to determine what the path forward looks for -- like for him.
This is exactly what I reported on a week ago detailing how the neocons running the Biden regime are trying to foment an insurgency in Ukraine as part of a US proxy war with Russia and couldn't care less what happens to the Ukrainian people as a result.

As Psaki admitted, the goal is for them to fight back "longer" than Russia anticipated.

The $13.6 billion in "aid" our corrupt Congress and Joe Biden just approved for Ukraine is likely just a crude bribe to President Zelensky to keep the war going and convince him not to surrender.

It was looking like Zelensky was going to accept Putin's perfectly reasonable terms of surrender (which even Israeli PM Naftali Bennett told him to accept) before this $13.6 billion in bribe money popped up.

Now Zelensky is suggesting he's going to fight Russia to the last Ukrainian!


As a reminder, the Washington Post reported just over a week ago that the claim that Zelensky turned down a US offer to evacuate Kiev by responding, "The fight is here; I need ammunition, not a ride," was put out by one anonymous "senior American intelligence official."

That's yet another piece of evidence suggesting the US is pushing Zelensky not to surrender.

Zelensky's hidden wealth was exposed by the Pandora Papers leaks and detailed five months ago in the Guardian (before they decided to turn him into the greatest leader in the history of the world).


From The Guardian:

Revealed: 'anti-oligarch' Ukrainian president's offshore connections

Volodymyr Zelenskiy has railed against politicians hiding wealth offshore but failed to disclose links to BVI firm

Luke Harding, Elena Loginova and Aubrey Belford | Sun 3 Oct 2021 12.30 EDT

It was a storyline that in earlier times would have seemed impossible. For four years, the actor and comedian Volodymyr Zelenskiy entertained TV audiences in Ukraine with his starring role in the sitcom Servant of the People. Zelenskiy played a teacher who, outraged by his country's chronic corruption, successfully runs for president. In 2019, Zelenskiy made fiction real when he contested Ukraine's actual presidential election and won.

On the campaign trail, Zelenskiy pledged to clean up Ukraine's oligarch-dominated ruling system. And he railed against politicians such as the wealthy incumbent Petro Poroshenko who hid their assets offshore. The message worked. Zelenskiy won 73% of the vote and now sits in a cavernous office in the capital, Kyiv, decorated with gilded stucco ceilings. Last month, he held talks with Joe Biden in the Oval Office.

The Pandora papers, leaked to the International Consortium of Investigative Journalists (ICIJ) and shared with the Guardian as part of a global investigation however, suggest Zelenskiy is rather similar to his predecessors.

The leaked documents suggest he had – or has – a previously undisclosed stake in an offshore company, which he appears to have secretly transferred to a friend weeks before winning the presidential vote.

Zelenskiy has not commented on the claim despite extensive attempts by the Guardian and its media partners to reach him. His spokesperson Sergiy Nikiforov messaged: "Won't be an answer."

The files reveal Zelenskiy participated in a sprawling network of offshore companies, co-owned with his longtime friends and TV business partners. They include Serhiy Shefir, who produced Zelensky's hit shows, and Shefir's older brother, Borys, who wrote the scripts. Another member of the consortium is Ivan Bakanov, a childhood friend. Bakanov was general director of Zelenskiy's production studio, Kvartal 95.

All are associated with Zelenskiy's home town in southern Ukraine, Kryvyi Rih. After winning power, Zelenskiy brought these close allies into government. Bakanov became head of Ukraine's SBU security agency. Zelenskiy made Serhiy Shefir his first assistant, an unpaid role that involves handling the president's daily schedule. A fourth member of this close-knit group, Andriy Yakovlev, is a film director and Kvartal 95 producer.

Zelenskiy has said these appointments were about personal trust rather than financial cronyism. "I have a few people who work with me who have been my friends for a long time … They have no relation to business, or to the budget," he told the Guardian in 2020.

A secret transfer

Before becoming president, Zelenskiy declared some of his private assets. They included cars, property and three of the co-owned offshore companies. One, Film Heritage, which he held jointly with his wife, Olena, a former Kvartal 95 writer, is registered in Belize.

But the Pandora papers show further offshore assets that Zelenskiy appears not to have revealed. Film Heritage had a 25% stake in Davegra, a Cyprus holding company. Davegra in turn owns Maltex Multicapital Corp, a previously unknown entity registered in the tax haven of the British Virgin Islands (BVI). Zelenskiy, the Shefir brothers, and Yakovlev each held a 25% stake in Maltex.

On 13 March 2019, two weeks before the first round of voting in Ukraine's election, Zelenskiy gave his quarter stake in Maltex to Serhiy Shefir, documents show. It is unclear if Shefir paid Zelenskiy. Bakanov witnessed this secret transfer and signed the offshore papers.

[...] In a recent opinion piece for the Atlantic Council, Zelenskiy said his ultimate goal as president was to destroy "the traditional oligarchic order" and to replace it with a "fairer system". Critics, however, say Zelenskiy has failed to reform the state and embraced the same shadowy ways as his predecessors. EU auditors warned last month that "grand corruption and state capture" remained widespread in Ukraine.

Since entering politics Zelenskiy has been dogged by claims he is under the influence of Igor Kolomoisky, a billionaire whose TV channel screened Zelenskiy's show [Note: Kolomoisky is the same Israeli billionaire who funded the "neo-nazi" Azov Battalion]. During the campaign Zelenskiy's opponents alleged $41m from Kolomoisky entities found its way between 2012 and 2016 into offshore firms belonging to Zelenskiy and his circle, including Film Heritage.

Russian connection

The Pandora papers show that at least some of the details in the scheme alleged by Poroshenko's party correspond to reality. They show that part of the Kvartal 95 network was managed with help from Fidelity Corporate Services, an offshore consultancy and one of 14 firms whose documents make up the leak. The files show that Zelenskiy and his business partners used companies based in the BVI, Belize and Cyprus.

The assets held via these offshore companies are wide-ranging. They include real estate in London. Shefir owns two top-end properties – a three-bedroom apartment in an Edwardian mansion block in Regent's Park bought in 2016 for £1.575m, and another three-bedroom flat in nearby Baker Street, opposite the Sherlock Holmes Museum, and purchased for £2.2m, according to Land Registry records.

Meanwhile, Yakovlev's BVI company Candlewood Investments owns a luxury flat in a Victorian mansion block in Artillery Row, Westminster. The properties were acquired around the time Zelenskiy's show was turned into a feature film and recommissioned for a second series. It is unclear if the three flats are let out or used on an occasional basis. A Russian company that bills itself as an "individual service for high status clients" manages them.
If Zelensky was taking bribes for tens of millions of dollars before, how much influence do you think the US government's $13.6 billion is now having?

Follow InformationLiberation on Twitter, Facebook, Gab, Minds, Parler and Telegram.