Poll: Only 31% of Americans Trust Fauci's Covid Advice And Only 15.5% Trust Biden's
Chris Menahan
InformationLiberation
Jan. 14, 2022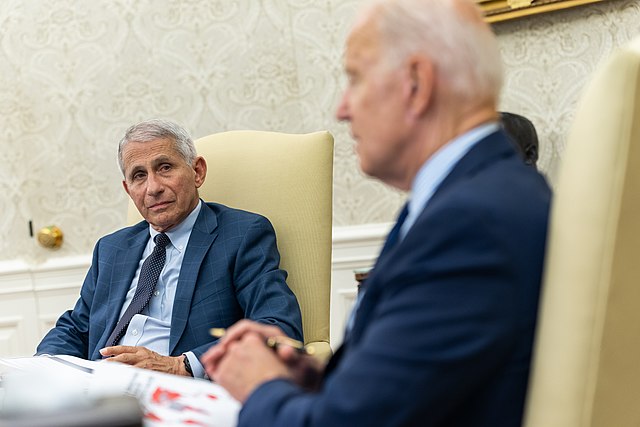 Anthony Fauci and Joe Biden have lost all credibility when it comes to covid.

From NewsNation/Decision Desk HQ:

When it comes to information about COVID-19, which of the following sources would you say you trust? Select all that apply. (margin of error: 5.8%)

Dr. Anthony Fauci: 30.8%
Federal health authorities like the CDC and the FDA: 49.8%
Your doctor: 63.2%
President Biden: 15.5%
The news media: 10.2%
Oh, how the mighty have fallen!

Only 10% trust the news media!

These numbers are absolutely brutal.

74% of respondents were vaxxed, too:

Have you received at least one dose of a COVID-19 vaccine? (margin of error: 2.7%)

No: 26.1%
Yes: 73.9%
Most also think the "pandemic" will never be over.

In your opinion, when do you think the COVID-19 pandemic will be over? (margin of error: 3%)

It is already over: 7.2%
Never: 51.8%
Within 6 months: 10.8%
Within a year: 30%
Here's some more highlights:

Thinking about other issues facing the country today, how concerned are you about inflation? (margin of error: 3%)

Not at all concerned: 1.5%
Not too concerned: 6.5%
Somewhat concerned: 31.8%
Very concerned: 60.1%

Which do you think is a bigger problem facing the United States today: Inflation, unemployment, or COVID-19? (margin of error: 3%)

COVID-19: 40.9%
Inflation: 45.4%
Unemployment: 13.5%
This regime has lost all legitimacy in the eyes of the American people!

Follow InformationLiberation on Twitter, Facebook, Gab, Minds, Parler and Telegram.