NY Gov. Kathy Hochul to Unvaxxed Hospital Workers: Get Vaxxed Or Get Replaced With Foreigners
Chris Menahan
InformationLiberation
Sep. 23, 2021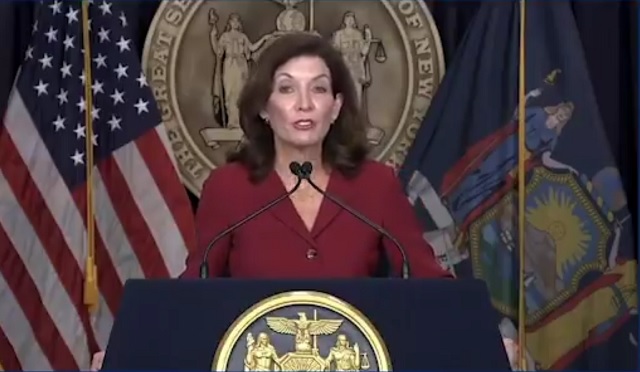 New York Governor Kathy Hochul on Thursday threatened to replace workers at hospitals and nursing homes with foreigners if they don't submit to being vaccinated by Monday.

From Zero Hedge:

"To those who won't, we'll be replacing people. And I have a plan that's going to be announced very shortly," [Governor Kathy Hochul] said.

"We've identified a whole range of opportunities we have to help supplement them."

Hochul said state officials were "working closely with various hospital systems to find out where we can get other individuals to come in and supplement places like nursing homes."


"We're also reaching out to the Department of State to find out about visas for foreign workers, on a limited basis, to bring more nurses over here," she said.

Per the Department of Health's records, 19% of the state's hospital workers remained unvaccinated as of Sept. 15, and 18% of nursing home employees remained unvaccinated as of Wednesday.

Starting Monday, employers can fire unvaccinated workers who don't have a "valid medical exemption" (though employees who claim religious exemption are also immune until Oct. 12 due to a temporary injunction issued by a federal judge in Utica).
Do what we say and submit to this experimental injection or we'll replace you with foreigners.

Can the agenda get any more obvious?

Follow InformationLiberation on Twitter, Facebook, Gab, Minds, Parler and Telegram.