Fauci Struggles to Explain Why People With Natural Immunity Should Take Vax: 'I Don't Have A Really Firm Answer For You On That'
Chris Menahan
InformationLiberation
Sep. 10, 2021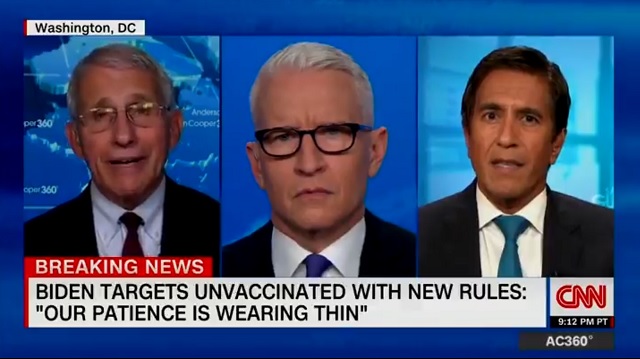 Anthony Fauci on Friday struggled to explain why people with natural immunity should take Big Pharma's experimental shots considering a study out of Israel showed people with natural immunity have far more robust protection from the virus.

"That's a really good point... I don't have a really firm answer for you on that," Fauci said.

WATCH:


Fauci went on to claim we don't know how long natural immunity will last but failed to highlight that "vaccine" effectiveness against infection and hospitalization is rapidly waning and that's why he's already pushing for everyone to get booster shots.

During the same interview, Fauci said he thought Biden's tyrannical vaccine mandate was "moderate" and he would order everyone to take Big Pharma's experimental injections in order to have a job.


Last month, Fauci said he supports mandating experimental covid shots for all school children.


Last year, Fauci brushed off the notion of mandatory vaccines and said the government "would never mandate" them "for any element of the general public."


"I don't see [a vaccine mandate] on a national level merely because of all the situations you have upon encroaching upon a person's freedom to make their own choice of their own health," Fauci said during another interview.


Follow InformationLiberation on Twitter, Facebook, Gab, Minds, Parler and Telegram.