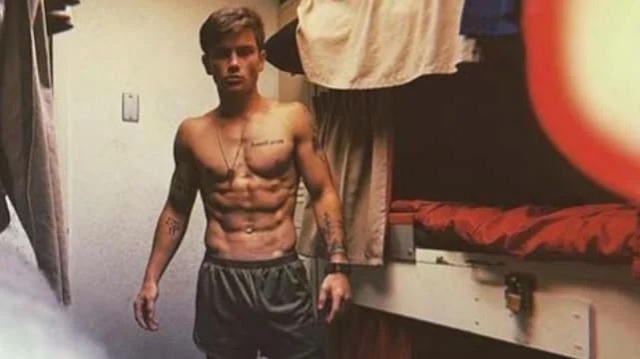 The investigation into the fire that destroyed the USS Bonhomme Richard amphibious assault ship has taken a very strange turn.

The leftist rag the Daily Beast is reporting the sailor accused of setting the fire is 20-year-old Ryan Sawyer Mays but they admit further into the article investigators appear to have no hard evidence proving his guilt, his DNA doesn't match with multiple DNA samples recovered at the scene of the crime and Mays insists he's being "set up."

From The Daily Beast:

Sailor Who 'Hated' Navy Torched $1.2B Assault Ship: Warrant

Ryan Sawyer Mays is accused of costing the Navy billions of dollars in damage after dropping out of Navy SEAL training and enduring an embarrassing breakup.

by Justin Rohrlich, Allison Quinn | Updated Aug. 04, 2021 6:46AM ET / Published Aug. 03, 2021 10:56PM ET

A 20-year-old sailor with a grudge against the U.S. Navy and a failed attempt at becoming a Navy SEAL under his belt is accused of setting an amphibious assault ship ablaze and singlehandedly costing the Navy $30 million in damage.

According to an NCIS search warrant affidavit obtained by The Daily Beast, Ryan Sawyer Mays aroused the suspicions of investigators almost immediately after the 40,000-ton USS Bonhomme Richard went up in flames on July 12, 2020, burning for nearly five days and leaving dozens injured while extinguishing the ferocious blaze.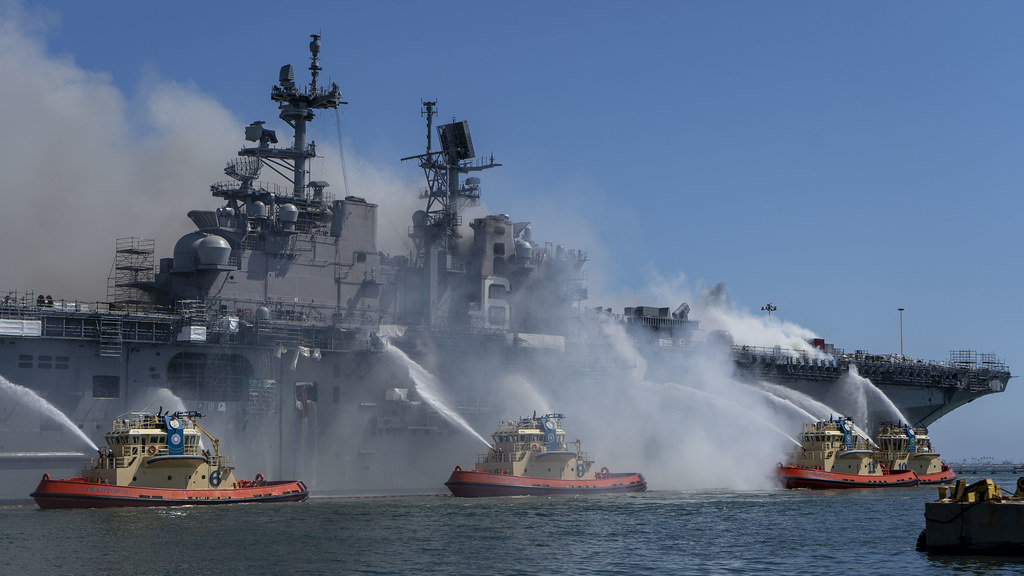 [...] Mays was identified by NCIS investigators after they interviewed some 177 sailors assigned to the Bonhomme Richard. One reported that he had seen a "light-skin male" in clean coveralls and a face mask carrying a metal bucket into the Lower V—the ship's aft section—but didn't recognize the person in question. But later, the sailor, named in the search warrant affidavit as Kenji Velasco, "did mention a sailor named Mays that 'hates' the U.S. Navy and the Fleet," the filing states.

In further interviews, Velasco said he was "fairly sure" and "90 percent sure" he saw Mays descend into the Lower V before the fire broke out. He also noted that firefighting equipment in the area seemed to have been tampered with.

"Velasco further explained that in the hours and days after the fire, it had dawned on him that the individual who descended to the Lower V at 0805 on the day of the fire was Mays's height and build, had fair hair that could be seen coming out from his cover, like Mays, sounded like Mays, and said, 'I love deck,' which is an expression Velasco knew Mays to say," the affidavit states, adding that other sailors had also suggested to investigators that the person in question seemed to be Mays based on his clothing and language and that a command master chief "identified Mays as a person who showed disdain towards authority and the U.S. Navy."

Investigators reviewed Mays' now-private Instagram account, and found a post that stated, "I love the smell of napalm in the morning," the affidavit explains. Mays' service record showed that he joined the Navy in 2019 "with the intent on becoming trained in the Advanced Electronics Computer Fields," then "changed his career goals to becoming a Navy SEAL." But five days after beginning SEAL training, Mays dropped out and was reassigned to the Bonhomme Richard as an "undesignated Seaman."
"I love the smell of napalm in the morning" is a meme from the movie Apocalypse Now.

"Investigators asked Mays about his Instagram post and he seemed to indicate that it was an homage to Apocalypse Now, the movie he had quoted," the warrant states.



The Daily Beast failed to point out he made that meme post on June 14, 2020, which is a month before the fire was set.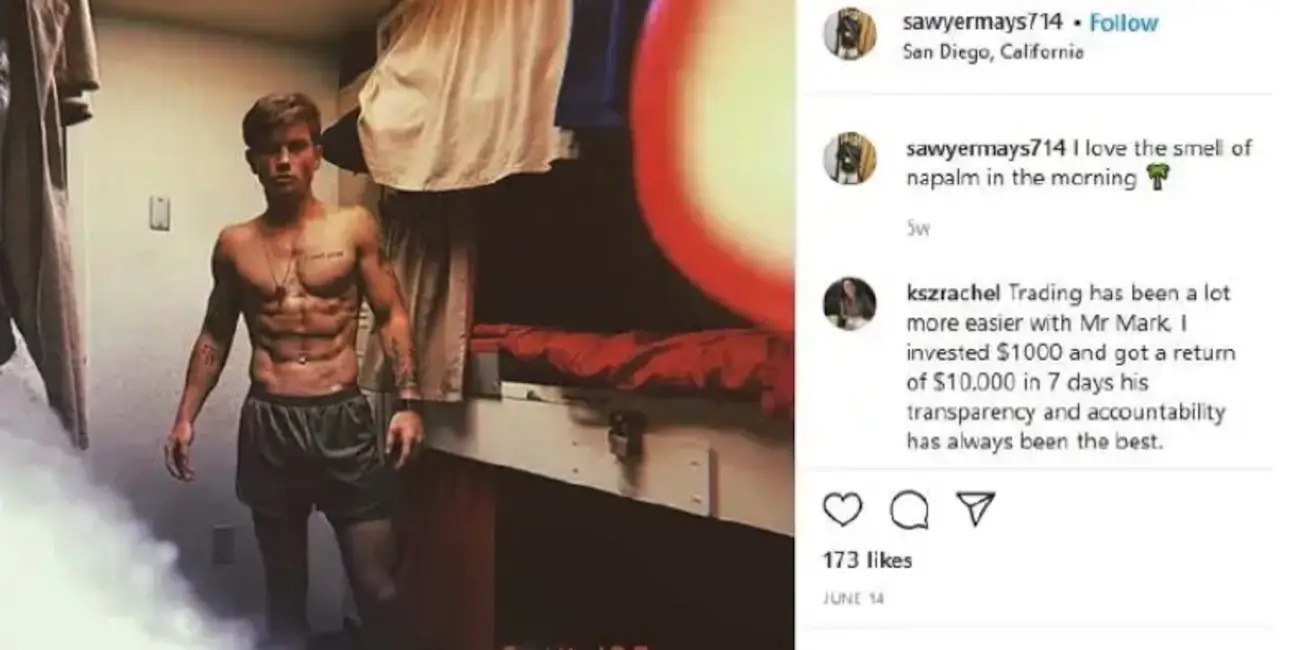 DB continues:

"According to Navy leadership, the morale and behavior of sailors who had aspired to become a SEAL, and then find themselves serving in a more traditional role on a Navy ship, are frequently very challenging," the affidavit states.

Mays told investigators he was willing to take a polygraph exam, after which he was arrested. Mays is said to have then incriminated himself in the presence of two Master-at-Arms designated sailors, who "heard Mays say (unasked) that he was guilty, seemingly talking to himself," according to the warrant. He later denied ever making the comments, and denied involvement in the arson, claiming he was being "set up."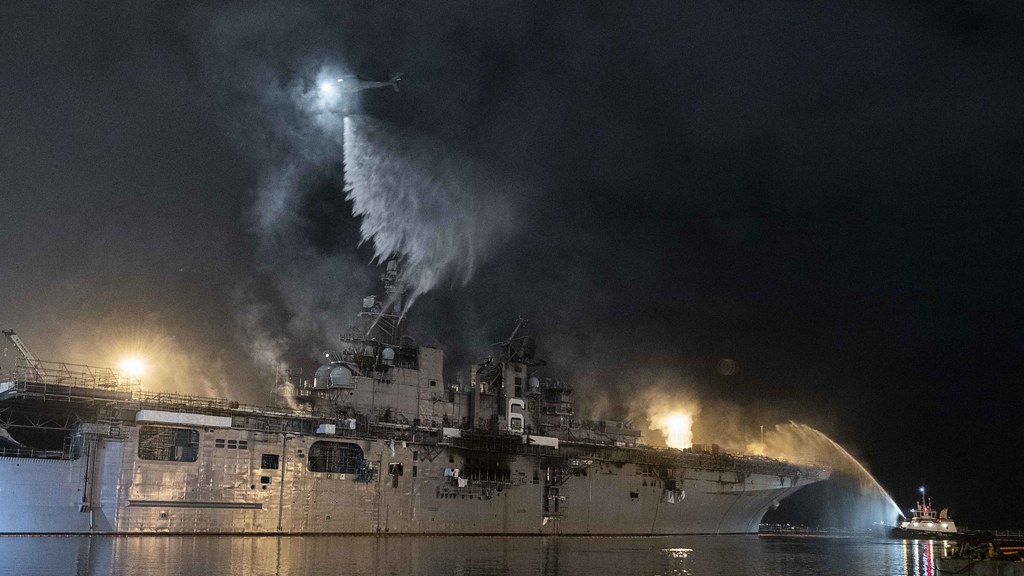 Investigators also dug into Mays' personal life and discovered several red flags. After telling investigators during an initial 10-hour interview that he'd recently separated from a female sailor upon discovering that she was pregnant and he was not the father, investigators "later learned this was mostly contradicted by the female sailor" in question, the warrant said.

That sailor recounted to investigators that while Mays had gone around telling everyone she was pregnant and that he was "going to be a father," she had never been pregnant and made that clear to him, even taking a pregnancy test to prove it.
Mays waived his right to a lawyer and spoke with investigators for 10 hours. He maintained his innocence the entire time.
It was not clear if that series of events was thought to have pushed Mays toward the alleged arson. NCIS investigators seized Mays' iPhone, searched his car and apartment, and swabbed his cheek for a DNA sample. So far, Mays' DNA has not been a match for DNA found at the scene.

Last November, the Navy said it would scrap the Bonhomme Richard in light of estimated repair costs of as much as $3.2 billion. The ship cost about $750 million when it was built in 1998, or about $1.2 billion by today's standards. The investigation, according to the affidavit, is ongoing.
No DNA evidence but recovered memories from another sailor and a meme line of text he himself posted publicly on Instagram?

The warrant laid out what may have been an elaborate conspiracy with a potential attempt to prevent the fire being put out by cutting a fire hose but Mays decided to tip everyone off to his future crime by posting a meme quote from Apocalypse Now a month earlier on his Instagram?

Mays consistently denied having anything to do with the fire over a 10-hour interrogation he volunteered to submit to and told the same story during a polygraph test he also volunteered to submit to but afterwards he just confessed to the crime out loud "while seemingly talking to himself" in the presence of two Master-at-Arms?

He was supposedly untruthful during his 10-hour interrogation because he and an ex-girlfriend had different stories about their relationship?

This stinks to high heaven.



Ryan Sawyer Mays search war... by J Rohrlich


Follow InformationLiberation on Twitter, Facebook, Gab, Minds, Parler and Telegram.