VIDEO: Victims of Systemic Oppression Casually Loot TJ Maxx in LA
Chris Menahan
InformationLiberation
Jul. 23, 2021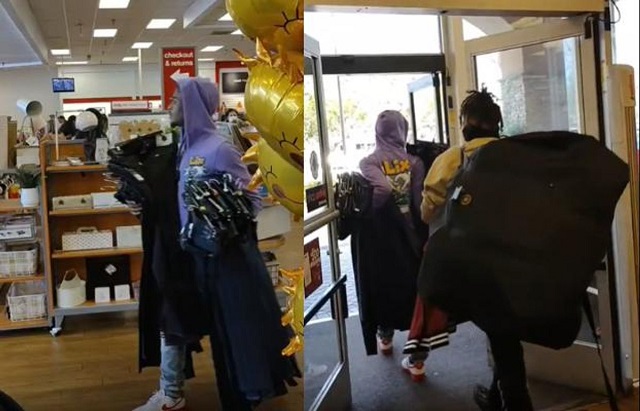 Look closely into these two men's eyes and you can see the fear, nay, mortal terror of white supremacy on full display.

They know that they could be shot for any moment by racist white police or white vigilante lynch mobs just for the "crime" of wearing a hoodie and having the "wrong" skin color.

They feel the weight of centuries of systemic racism and slavery but soldier on against all odds to secure bread for their starving families.

This is the face of true heroism!



From CBS LA, "2 Men Caught On Camera In Brazen Daylight Theft From Granada Hills TJ Maxx":

Two men casually walked out of a crowded TJ Maxx in Granada Hills recently, their arms full with what appeared to be stolen items.

"That looks great," one man said as video showed them headed toward the door.

One of the men even had an oversized duffle bag on his back.

"They didn't even run out, they walked out," Los Angeles Police Department Sgt. Jerretta Sandoz said. "And so, that's sending a message that we, the criminals, are winning."

Sandoz is a veteran sergeant and is vice president of the Los Angeles Police Protective League. She blames the brazen act on Prop 47, which lowered criminal sentences for certain non-violent crimes such as shoplifting.
It's a scene we've seen so often lately as this compilation from the Daily Caller demonstrates:



The question remains: what can we do to make these victims of systemic oppression feel safe to walk the streets?

As LeBron James so famously said, they literally "can't even go for a damn jog" without being "hunted down" by white supremacists!


How many billions more must we pledge to end the scourge of racism and white supremacy once and for all?


We must unlock the doors to every store -- and especially every Amazon warehouse -- so these people can be free!

Follow InformationLiberation on Twitter, Facebook, Gab, Minds, Parler and Telegram.