Tucker: NSA Spied On My Communications Because I Tried to Interview Putin
Chris Menahan
InformationLiberation
Jul. 08, 2021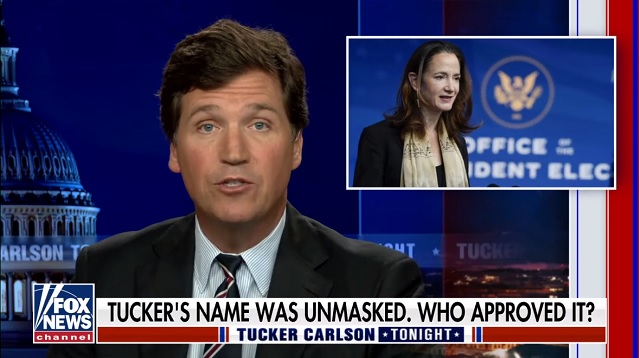 Tucker Carlson reported on his show Wednesday night that he was illegally spied on and "unmasked" by the NSA because he tried to set up an interview with Russian President Vladimir Putin.

WATCH:



Tucker interviewed Glenn Greenwald on the case:


Seedy Axios journo Jonathan Swan released an article titled, "Scoop: Tucker Carlson sought Putin interview at time of spying claim" just some 2 1/2 hours before Tucker released details of the spying scandal on air:


Did the NSA leak Tucker's communications to Swan and did he decide to hold onto it after the whistleblower and Tucker went public with the scandal?

By putting the story out shortly before Tucker, he still got to cash in on web traffic and it created a degree of plausible deniability that he may have got a leak from someone on Tucker's staff.

The article had enough details to suggest it wasn't thrown together in a few hours.



"Two sources familiar with Carlson's communications said his two Kremlin intermediaries live in the United States, but the sources could not confirm whether both are American citizens or whether both were on U.S. soil at the time they communicated with Carlson," Swan reported.

"This is relevant because if one of them was a foreign national and on foreign soil during the communications, the U.S. government wouldn't necessarily have had to seek approval to monitor their communications."

Intel analysts would need permission to unmask him, which Tucker says they got.

Greenwald highlighted this classic clip of Sen. Chuck Schumer threatening Trump that the intelligence community would take revenge on him for criticizing them:


Tucker has been railing against the FBI and deep state in general, pushing back hard against their Jan 6 "insurrection" lies. Now, they're taking revenge on him by illegally spying on his private communications in a bid to destroy him.

On the flip side, our intelligence agencies ran cover for intelligence asset Jeffrey Epstein and his politician-blackmailing child trafficking operation.

Follow InformationLiberation on Twitter, Facebook, Gab, Minds, Parler and Telegram.