UK Govt Tells Social Media to Censor Videos of Illegal Migrant Crossings
Chris Menahan
InformationLiberation
Jun. 09, 2021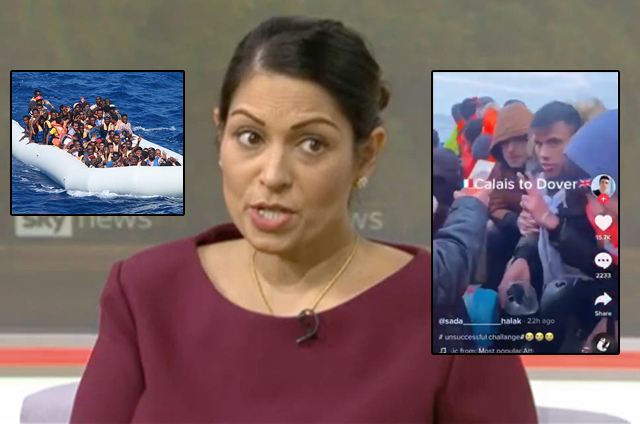 Home Secretary Priti Patel under "conservative" PM Boris Johnson has been working to flood the UK with record migration and is now pressuring social media companies to censor videos of illegal migrant border crossings.

Patel tried to justify the censorship by claiming that allowing the public to see what's really happening on their borders only serves to "encourage" illegal migrants to make such crossings.

From Breitbart, "Censor the Migrants Away: Priti Patel Demands Social Media Remove Videos of Channel Crossings":

Home Secretary Priti Patel has reportedly demanded that social media companies censor videos of illegal migrants crossing the English Channel as they "glamourise" the perilous journey.

The Home Secretary has increasingly come under fire for her failures to stop illegal migration and "take back control" of Britain's borders following its official departure from the European Union at the beginning of the year.

Patel's latest scheme to drive down numbers of migrants crossing the Channel is to call on social media companies to take down videos, arguing that footage promoting the "lethal crossings" is "unacceptable", according to the BBC.

The letter from the Home Secretary was sent on Saturday, after a video showing a group of migrant men crossing from France in a rubber dinghy went viral on TikTok.

"Posts which promote and even glamorise these lethal crossings are totally unacceptable. They encourage others to leave a safe European country and put theirs and their family's life at risk and are even used by people smugglers to promote their deadly business," Patel said.

"What these posts don't mention are the people who have died trying to make this crossing, or those forced to spend 13 hours in unseaworthy boats in freezing waters."

She said that social media companies "must quickly and proactively... before more men, women and children die in the Channel."
The TikTok video mentioned has been censored everywhere but I managed to find a mirror with just a few hundred views on Facebook:



Johnson and his Conservative Party have been working to flood the UK with migrants despite being elected to do the exact opposite (just like the "conservatives" here in America).

"Net migration to the UK from countries outside the European Union has risen to its highest level for 45 years," the BBC reported last year.

"Figures show an estimated 282,000 more non-EU citizens came to the UK than left in 2019, the highest since the information was first gathered in 1975."



The UK Border Force was caught entering French waters to pick up illegal migrants and bring them to Britain less than two weeks ago.


As we saw last week, pressure groups in the UK lobbying for censorship can get sites like Twitter to change their rules for the entire world.

Last week, BitChute under pressure from the UK Office of Communications had to change their TOS and ruin the site for people all over the UK and Europe by blocking tons more videos and censoring entire channels for "hate speech."

I'm sure Twitter and Facebook would love nothing more than to ban all videos of migrants flooding over the border in the UK, Europe and here in America.





Judging by how difficult it was to find that TikTok video above, it appears they've already started doing so!

Follow InformationLiberation on Twitter, Facebook, Gab, Minds, Parler and Telegram.