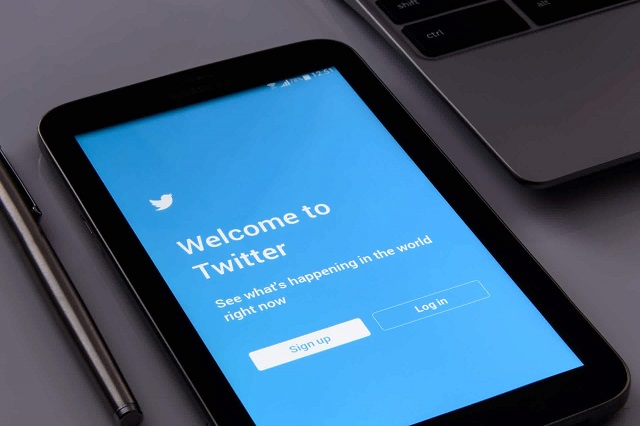 Twitter has introduced new censorship rules to ban denial of the Holocaust but allow denial of the Holodomor.

On Tuesday, Twitter announced their new speech codes specifically "do not permit the denial of violent events, including abusive references to specific events where protected categories were the primary victims."


"It includes, but is not limited to, events like the Holocaust, school shootings, terrorist attacks, and natural disasters," Twitter said.

The Board of Deputies of British Jews on Tuesday took credit for the "crackdown" in a statement released on their website: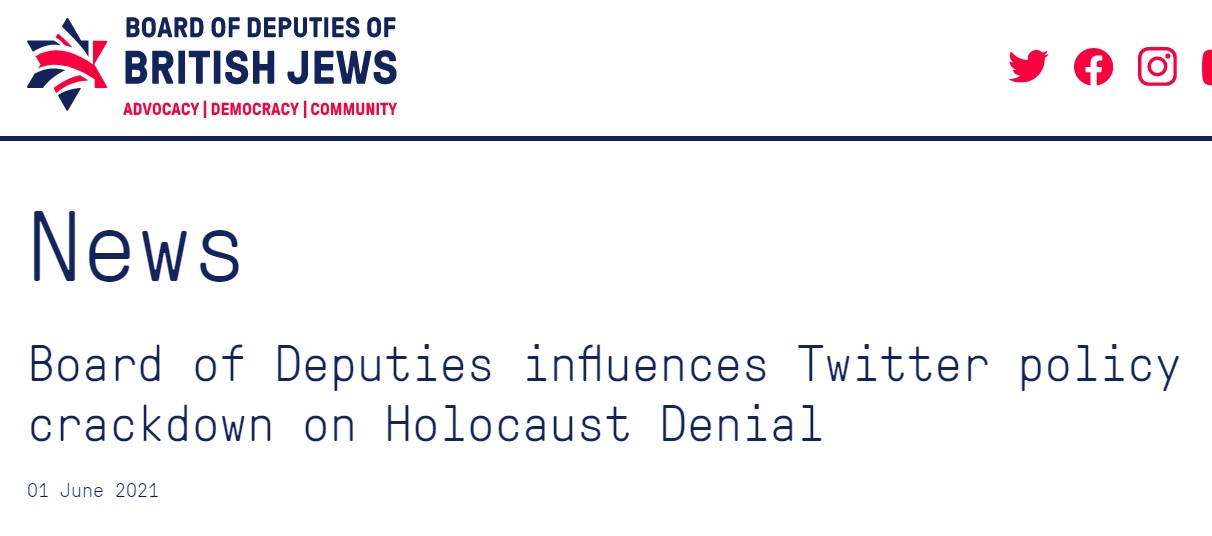 Their statement reads in part:

For some years, the Board of Deputies has urged social media companies, including Twitter, to crack down harder on Holocaust denial.

Last week, the Board of Deputies was among key partners on the Twitter Trust & Safety Council notified that the Twitter Help Center had been updated with respect to Hateful Conduct and Abusive Behaviour policies, to make them more expansive and far-reaching in respect of Holocaust denial and the denial of other violent events.

Twitter has said it hopes these updates will result in "a more aggressive approach" to the enforcement of existing policies as they relate to the denial of violent events, including Holocaust Denial and abusive references to the Holocaust – and has credited the work of the Board of Deputies for helping to bring about the change.

As part of the changes, instituted this week, Twitter said that this approach would apply to "the denial of violent events and abusive references to violent events where protected categories are the primary victims", listing the Holocaust as the first example. In a meeting this week between representatives of Twitter's public policy team and representatives of UK Jewish organisations, Twitter specifically commended the Board of Deputies' work in helping to bring about the policy shift.

[...] Amanda Bowman, Vice President of the Board of Deputies and Chair of the organisation's Defence Division, expressed satisfaction that the Board's work was being recognised, but made it clear that social media platforms still had much more work to do.

"While it is undoubtedly gratifying to hear that the Board's work is leading to changes which will hopefully better protect Jewish Twitter users, we will wait to see the long-term results before celebrating", she said.
Twitter banned President Trump last year after lobbying from the Anti-Defamation League.

"C.E.O.s have become the fourth branch of government," ADL CEO Jonathan Greenblatt told the New York Times after Trump's ban. "They're trying to hold the country together."

Reddit made similar changes to their censorship policies last year when they changed their rules to explicitly allow hate speech against "people who are in the majority."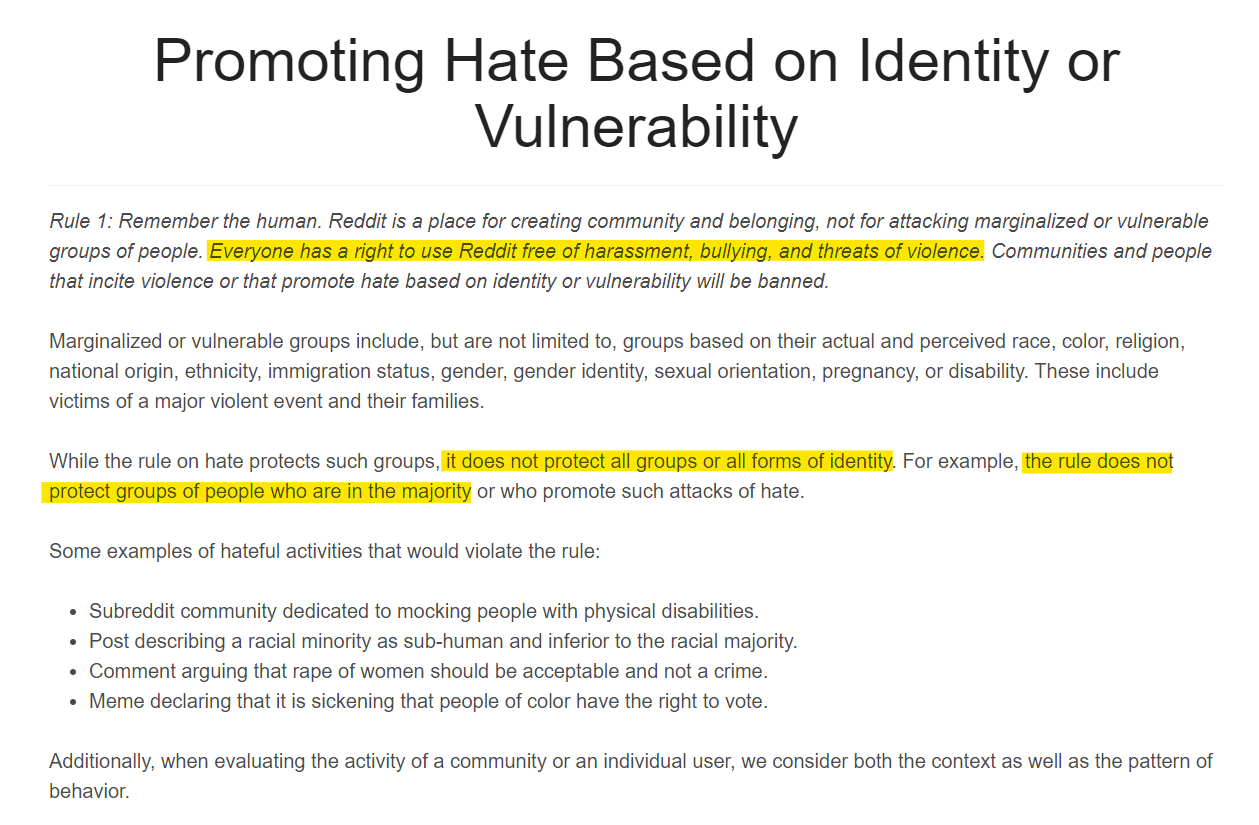 Facebook in 2019 also made similar changes when they issued new rules banning statements of intent for "high-severity violence" but said they'll allow such threats to be issued against people they've deemed "dangerous individuals," such as Alex Jones and Louis Farrakhan.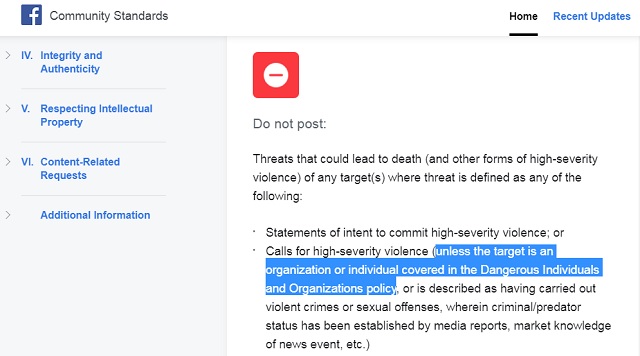 Last year, Facebook announced they were overhauling their "race-blind" "hate speech" algorithms to explicitly allow more anti-White hatred.

"Facebook has long banned hate speech — defined as violent or dehumanizing speech — based on race, gender, sexuality and other protected characteristics," The Washington Post reported. "But before the overhaul, the company's algorithms and policies did not make a distinction between groups that were more likely to be targets of hate speech versus those that have not been historically marginalized."

"Comments like 'White people are stupid' were treated the same as anti-Semitic or racist slurs," the Post said.

Mark Zuckerberg last year issued new speech codes for Facebook and Instagram to ban all Holocaust denial as well as all content which depicts "Jewish people running the world or controlling major institutions such as media networks, the economy or the government."

"The idea of banning content that promotes stereotypes of Jewish global control came up a year ago, in a meeting with several Jewish groups convened by Facebook, and was pushed primarily by the World Jewish Congress," The Jewish Daily Forward reported.

Follow InformationLiberation on Twitter, Facebook, Gab, Minds, Parler and Telegram.