"John Oliver Slams White People Over Ignorance Of Black Hairstyles"
Chris Menahan
InformationLiberation
May. 12, 2021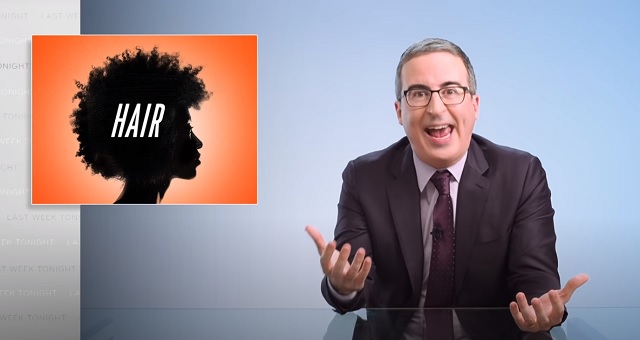 Watching libtard TV is like stepping into an alternative universe.

One-time comedian John Oliver's latest show was dedicated to scolding white people for oppressing black people by not thoroughly understanding the intricacies of their hair-styling practices.

Oliver rants about it for nearly 24 minutes straight.

Watch a few minutes of the show just to understand the claptrap our libtard "elites" are literally paying to consume:



The show was posted on Monday and has nearly 3 million views, how many of which are from bots/autoplay I can't say.

From Deadline, "'Last Week Tonight': John Oliver Slams White People Over Ignorance Of Black Hairstyles":

Last Week Tonight's John Oliver offered no breaks for his white viewers at home tonight – a recurrent theme for the nation's political late-night television host.

[...] He smartly begins by deprecating his identity as a white man to build some credibility. "I realize I'm not the ideal person to talk about Black hair. I look like I still go to an old time-y barber named Valentino and ask for a tidy Liza Minnelli," Oliver deflected.

He continues to explain how white people have historically ignored the cultural roots, significance and diversity of Black hairstyles and how that lack of understanding has serious consequences today, from professional to political.
"Black hair shouldn't be viewed, corralled or judged by white people's comfort because it doesn't belong to white people, it doesn't affect white people, white people really don't need to have an opinion on it," Oliver said.

Oliver ended his program with a profanity-laced video from actors Leslie Jones, Uzo Aduba and Craig Robinson, encouraging white viewers curious about Black hair to "f*cking Google it."

"It can be f*cking Bing, YouTube, Wikipedia -- I don't give a sh*t," the former SNL actress said.

For the white viewers not interested in Googling, there is another option, said the Office actor. Without skipping a beat, Jones finishes Robinson's sentence: "F*cking off is always an option."
It's shows like these which give libtards their worldview.

If you're as baffled as I am that anyone could watch this trash that's because you're probably not mentally ill, depressed and filled with self-hatred like your average white libtard.

They love nothing more than being berated for 24 minutes and told to "f**k off" by Leslie Jones.

Follow InformationLiberation on Twitter, Facebook, Gab, Minds, Parler and Telegram.