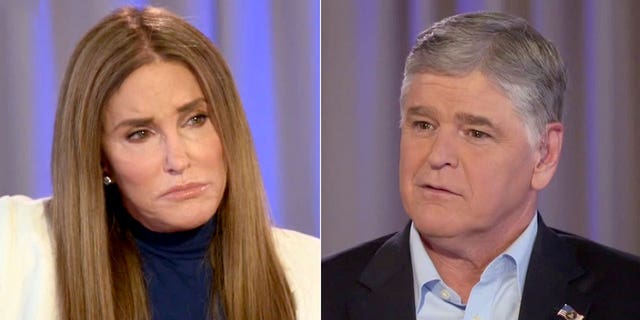 The GOP establishment's new hero wants to give mass amnesty to illegal aliens.

From CNN, "Caitlyn Jenner says she favors path to citizenship for California immigrants":

California Republican gubernatorial candidate Caitlyn Jenner said she favors granting a path to citizenship to the 1.75 million undocumented immigrants in the state's labor force, staking out a position that is more progressive than many voters in the GOP base nationally and at odds with former President Donald Trump, who Jenner supported until 2018.

In an interview with CNN's Dana Bash that will air on "Anderson Cooper 360" at 8 p.m. ET Monday night, Jenner said that she decided to challenge California Gov. Gavin Newsom in the all-but-certain recall election after watching the crisis that has unfolded at the southern border where the Biden administration has been struggling to halt a surge in immigrants from South and Central America, many of them children.

"I am for legal immigration, okay. What's been happening on the border was honestly one of the reasons I decided to run for governor," Jenner said in the interview. "I was watching people dying come across the river, kids in cages – whatever you want to call them."

"They should have a chance at citizenship?" Bash asked.

"Absolutely, yeah. They should. I mean, there's a lot of people, but personally I have met some of the most wonderful people who are immigrants, who have come to this country and they are just model citizens. They are just great people and I would fight for them to be US citizens," Jenner replied.
Looks like Hannity was wrong when he corrected Jenner's "gaffe" saying he's "pro-illegal immigration":


Everyone should take notes of who signed on to this clown's campaign.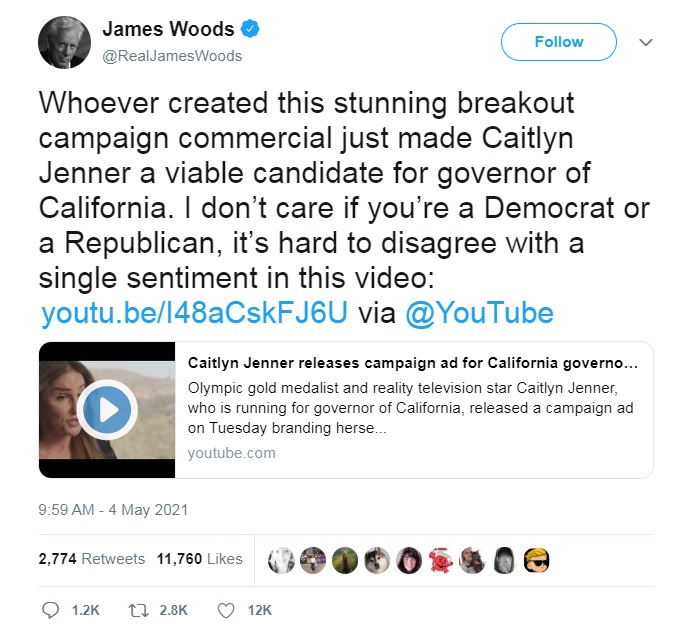 James Woods deleted this tweet sometime over the past two or three days.


This is the absolute state of the GOP.

Bruce Jenner "came out as transgender to avoid manslaughter charges for killing Kim Howe in Malibu traffic accident," The Daily Mail reported in 2016, citing the book Kardashian Dynasty: The Controversial Rise of America's Royal Family.

"Bruce Jenner killed Kim Howe, 69, along the Pacific Coast Highway in Malibu in a traffic accident in February 2015," The Daily Mail reported. "Two months later the Keeping Up With The Kardashians star came out publicly as transgender woman Caitlyn."

"Now a new book, Kardashian Dynasty: The Controversial Rise of America's Royal Family from Gallery Books, alleges that the former Olympian announced his change from male to female at that time period to avoid manslaughter charges for taking Howe's life."

It was alleged in the book, which is from author Ian Halperin, that Bruce was 'driving at an unsafe speed' in Malibu at the time of the wreck. That means he could have faced some heavy charges.

'Before Bruce got into the accident, he gave the world hints about his true sexuality,' Halperin quotes a friend as saying.

'After the accident, he went full steam ahead. I truly believe he was trying to misdirect the negative publicity he received after the car crash….it was clear he was worried about being charged.'

The author quotes a friend of Jenner's who insisted that the star 'misdirecting the serious offense by promoting his transition.'

And when the June issue of Vanity Fair - which was put together in March - came out, Jenner had captured the attention of the world.

The L.A. District Attorney announced in September they would not file charges.

In December Jenner settled a lawsuit filed against her by one of the drivers involved in the fatal crash.

In January, Jenner settled with Howe's two adult stepchildren, William Howe and Dana Redmond. The sum was not disclosed.
If you doubt the state would choose not to charge Jenner for transitioning, just two months ago a federal judge decided against imprisoning a member of the neo-Nazi Atomwaffen Division after they announced they were "transitioning."

"A federal judge declined to impose prison time Wednesday on a former member of a neo-Nazi ring that threatened journalists, finding that the 21-year-old -- who concealed his transgender identity from his co-conspirators -- had already suffered enough in his young life," the AP reported.

We've seen similar stories in the UK.


Transitioning is not only becoming a get-out-of-jail-free card but a ticket to the top of the GOP!

Follow InformationLiberation on Twitter, Facebook, Gab, Minds, Parler and Telegram.