THEY LIED: Feds Admit 'Bear Spray' Was NOT Used Against Officer Sicknick
Chris Menahan
InformationLiberation
Apr. 28, 2021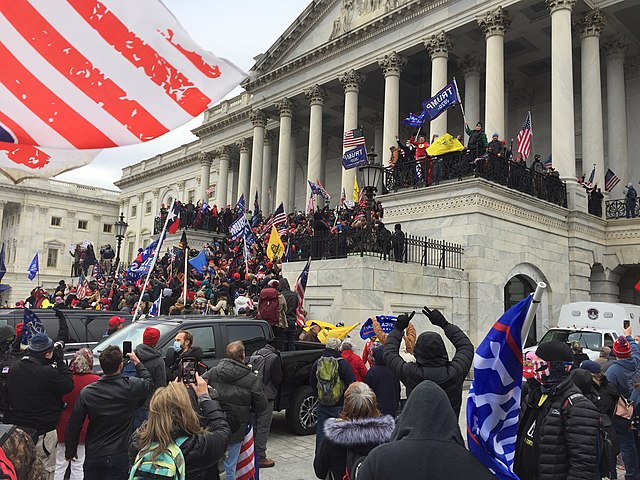 The American people have been fed lie, after lie, after lie about what happened on January 6th.

First we were told Officer Brian Sicknick was "killed by a pro-Trump mob" who bashed him over the head with a fire extinguisher.

After that was proven to be a lie, they arrested two guys and tried to imply they killed him by spraying a powerful "bear spray" at him.

Last week, after over three months of stalling, DC's chief medical examiner admitted Sicknick died of "natural causes" on Jan 7 after suffering two strokes.

On Tuesday, the feds admitted they have no proof that Sicknick was hit with any bear spray.

From Washington Times, "Capitol Police Officer Brian Sicknick not sprayed with bear spray, prosecutors say":

Prosecutors told a federal judge Tuesday that U.S. Capitol Police Officer Brian Sicknick was assaulted with Mace — not the more dangerous bear spray as originally reported — debunking another false narrative that emerged after the officer's death the day after the Jan. 6 riot at the U.S. Capitol.

The stunning admission by Gilead Light of the U.S. Attorney's Office for the District of Columbia came in open court during a hearing to determine whether two men accused of assaulting Sicknick and two other officers during the riot should remain in jail ahead of their criminal trial.

While Mr. Light said one of the suspects Julian Khater, 32, was holding an aerosol-based bear spray before the assault, he claimed Mace or pepper spray was used on the officers.

"It does appear that the bear spray Mr. Khater was holding before the assault was not used during the actual assault," Mr. Light said. "What was used was a smaller can."
"George Tanios and Julian Khater were arrested March 14 and charged with several crimes including four counts related to possession and use of a 'deadly or dangerous weapon' and for conspiring ahead of time to use the spray against police officers," American Greatness reports. "They've been behind bars ever since. Both were transported to the nation's capital where they joined dozens of January 6 detainees held in solitary confinement in a D.C. jail."

From American Greatness, "The Feds' Nonexistent Case Against Alleged Sicknick Assailants":

Khater's family is asking the court to release him on a $15 million bond guaranteed by 16 family members. (As one journalist noted, that amount is three times higher than Harvey Weinstein's bail.) Judge Thomas Hogan will hear the case on Tuesday and then decide whether to keep Khater and Tanios behind bars until their next court date or confine the pair to home detention.

There is no reason to keep these men in jail, let alone in solitary confinement in a D.C. prison. Cherry-picked video evidence does not support the weapon charges against them; the chief investigator confessed no evidence exists to prove the can of spray ever was used or that Khater sprayed it at anyone including police officers. The Justice Department's refusal to allow access to video evidence raises plenty of red flags.

Neither man has a criminal record. George Tanios and Julian Khater pose no threat to society. Their only crime, as is the case with hundreds of nonviolent Capitol protesters, was supporting Donald Trump and daring to question the validity of the 2020 presidential election—a doubt shared by tens of millions of Americans.
The Biden regime is engaged in a criminal conspiracy to deprive the American people of their civil liberties and strip them of all their rights.

The entire plot is centered around the false narrative that what took place on Jan 6 was an "insurrection" even though not one person was arrested in the Capitol or anywhere on Capitol grounds with a firearm and not one single police officer or congressman was killed.

The only person we know for certain was killed was unarmed 14-year Air Force veteran Ashli Babbitt who was shot dead on video by Capitol police. The men who filmed the vicious execution and showed it to the world have both been arrested but the killer cop wasn't even charged and his name still has not been revealed!

Follow InformationLiberation on Twitter, Facebook, Gab, Minds, Parler and Telegram.