Chauvin Found Guilty On All Counts in Minneapolis Show Trial
Chris Menahan
InformationLiberation
Apr. 20, 2021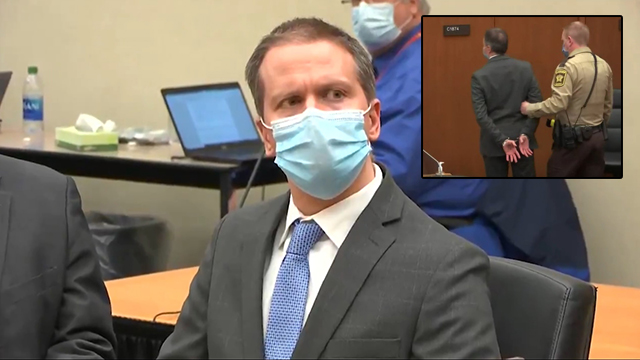 Derek Chauvin on Tuesday was found guilty of all three charges he faced over the death of George Floyd -- second-degree unintentional murder, third-degree murder and second-degree manslaughter.



"Under Minnesota sentencing guidelines, Chauvin faces 12-1/2 years in prison for his murder conviction as a first-time criminal offender," Reuters reports. "Prosecutors could, however, seek a longer sentence up to the maximum of 40 years if Hennepin County District Judge Peter Cahill, who presided over the trial, determines that there were 'aggravating factors.'"

All the evidence indicates Floyd, who had severe heart disease, died of a fentanyl overdose (combined with meth) and likely swallowed drugs like he did during a prior arrest caught on tape in 2019.

That said, the facts of the case didn't matter as the threats of the jury getting doxed and their city going up in flames was pressure enough to find him guilty.



The demographics of the jury were rigged against him (and in no way reflected the demographics of the community) before the trial even started and the fact the trial wasn't moved out of the city was just a sick joke.



This was a ritual sacrifice to Black Lives Matter.

Maxine Waters called for riots if Chauvin was found not guilty and Joe Biden said he was "praying" for Chauvin to be found guilty while the jurors were still under deliberations.

It's possible Chauvin will be able to get a second trial on appeal but seeing as how rigged this case was in the first place there's little reason to believe that won't be rigged as well.


Biden said when he was running that the "white man's" "English jurisprudential culture" needed to be scrapped and now it is officially gone, at least in most major cities.

Black Lives Matter is our ruling class' new religion and eliminating "whiteness" is their only goal.

Plan accordingly.

Follow InformationLiberation on Twitter, Facebook, Gab, Minds, Parler and Telegram.