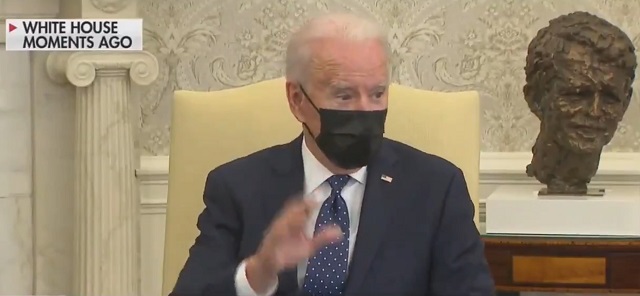 This is sure to calm tensions!


From The Daily Mail:

The verdict in the Derek Chauvin trial is set to be announced before 5pm eastern time - just hours after Joe Biden said he was 'praying for the right' outcome and he said the evidence against the cop was 'overwhelming'.

Biden on Tuesday made the series of extraordinary comments as the jury began its second day of deliberations in the Chauvin case. The verdict is set to come down less than 24 hours after members of the jury were retired.

Hennepin County Court's website said in a notice: 'A verdict has been reached and will be read between 3:30-4:00 p.m. Tuesday, April 20.'

Chauvin is charged with second-degree unintentional murder, third-degree murder and second-degree manslaughter in George Floyd's death. He has pleaded not guilty, but faces 12-and-a-half years in prison if convicted of the most serious charge.

'I'm praying the verdict is the right verdict. Which is – I think it's overwhelming in my view,' Biden told reporters in the Oval Office on Tuesday morning. 'I wouldn't say that unless the jury was sequestered now.'
Remember, when Biden was running he said we need to scrap the "white man's" "English jurisprudential culture."

His entire administration is now putting that into practice!

Follow InformationLiberation on Twitter, Facebook, Gab, Minds, Parler and Telegram.