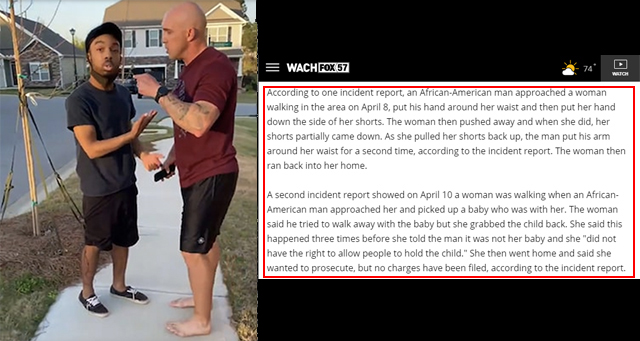 The Black Lives Matter saint seen getting pushed by Army Sergeant Jonathan Pentland on Monday in a viral out-of-context video reportedly sexually harassed a woman and attempted to snatch a baby in separate incidents in Pentland's neighborhood just days before the confrontation took place.

Right before the confrontation took place, the alleged "victim" -- identified only as "Deandre" -- allegedly approached "several neighbors in a threatening manner" at which point neighbors ran to Pentland's house and begged him to help protect them.

The incident occurred in a suburb in Columbia, South Carolina and is being reported by the media as a white man harassing a black man for "walking while black."


WACH FOX 57 detailed the first two incidents in a report released Wednesday:

According to one incident report, an African-American man approached a woman walking in the area on April 8, put his hand around her waist and then put her hand down the side of her shorts. The woman then pushed away and when she did, her shorts partially came down. As she pulled her shorts back up, the man put his arm around her waist for a second time, according to the incident report. The woman then ran back into her home.

A second incident report showed on April 10 a woman was walking when an African-American man approached her and picked up a baby who was with her. The woman said he tried to walk away with the baby but she grabbed the child back. She said this happened three times before she told the man it was not her baby and she "did not have the right to allow people to hold the child." She then went home and said she wanted to prosecute, but no charges have been filed, according to the incident report.
WACH said it wasn't clear whether Deandre was the man accused in said incidents but the Washington Post confirmed Thursday that it was him.

"Pentland has said he feared for his and his wife's safety, and the young man is accused of earlier assaults," The Washington Post reported.

Two reports of alleged assault were also made against the young man after deputies responded Monday, according to the sheriff's department, and they are being investigated. The young man has "an underlying medical condition that may explain the behavior exhibited in the alleged incidents," the agency said.

On April 8, one incident report says, the man allegedly put his arm around a woman's waist, put his hand down the right side of her shorts and then put his arm back around her waist as her pants were partly down. On April 10, another report alleges the man repeatedly picked up a baby without permission and tried to walk away.

Pentland told officers who had responded to a "physical dispute" Monday that he pushed the man "in fear for his safety and the safety of his wife," according to the incident report.

Deputies were told that the man approached "several neighbors in a threatening manner" and that someone had asked Pentland to "intervene," the agency said in a statement.
Kitty Shackleford on Gab had a solid rundown on the case: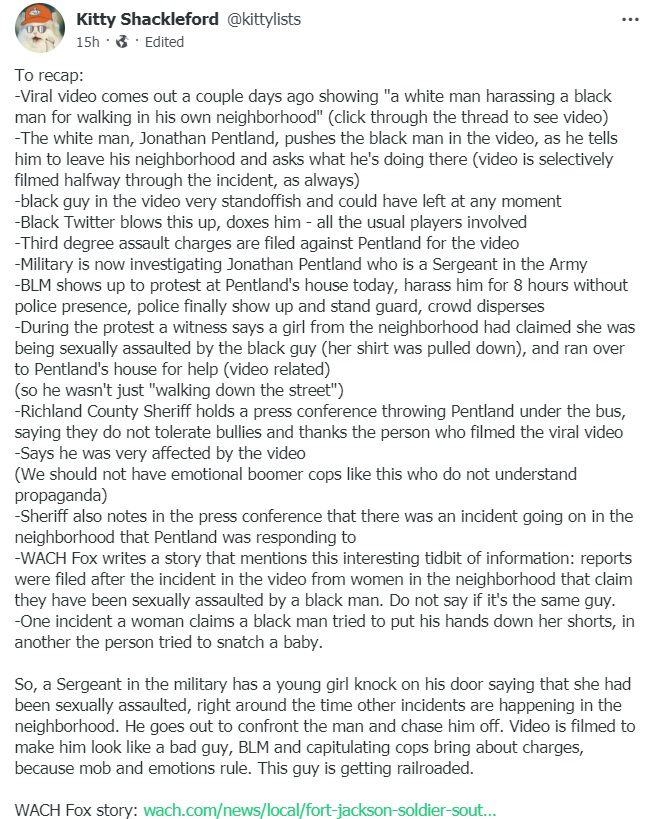 A giant BLM mob surrounded his family's home and vandalized it:






Pentland and his family had to be moved out for their safety.




From WSPA, "Family relocated after violence erupts at protest outside home of arrested Fort Jackson solider":

According to an incident report, a hammer was thrown into a second-floor window. Three people were upstairs at the time. Several other objects – like cases of bottled water – were also thrown at the home, the report stated.

A light fixture attached to the home near the garage was also broken, and one person was seen striking the home, driveway and the light fixture with a silver baseball bat.

An unknown substance was also splattered on the drive way and garage door.
"Innocent until proven guilty" is now just a relic of our "white supremacist" past.


Pentland was arrested on Wednesday morning and charged with third-degree assault and battery.



On Thursday, Pentland was thrown under the bus and suspended from his instruction duties at Fort Jackson.




This is Pentland's reward for honorably serving his country!

Follow InformationLiberation on Twitter, Facebook, Gab, Minds, Parler and Telegram.