REVEALED: Gov Newsom Partied With Top Lobbyists, Calif. Medical Officials, Blew Off COVID Protocols
Chris Menahan
InformationLiberation
Nov. 19, 2020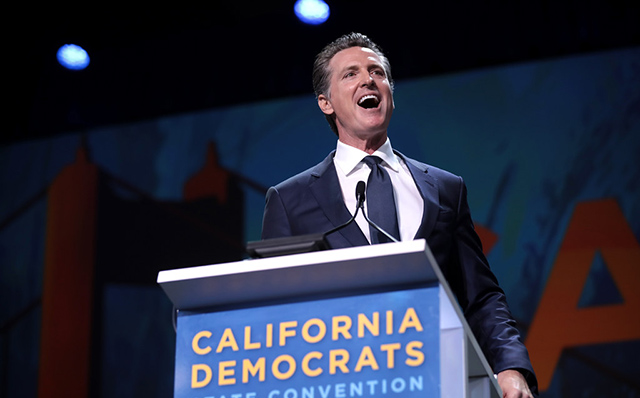 Photos obtained by FOX 11 Los Angeles reveal the "birthday dinner" California Governor Gavin Newsom attended earlier this month was a party with top lobbyists and California medical officials who were all flaunting the COVID-19 protocols that they're imposing on the general public.

WATCH:



From FOX 11 LA:

FOX 11 obtained exclusive photos on Tuesday night of Governor Gavin Newsom allegedly eating at the French Laundry restaurant in Yountville, California at a dinner party he attended on November 6 not following his own COVID-19 protocols he set forth for the state.

Now new fallout on Wednesday evening over the two photos obtained exclusively by FOX 11 Tuesday night showing Governor Gavin Newsom dining at the luxurious French Laundry restaurant in Napa for the birthday dinner of well-known lobbyist Jason Kinney.


[...] A closer look reveals that Janus Norman a top lobbyist for the California Medical Association who is sitting right next to Governor Newsom.

On Newsom's other side is the CEO of the California Medical Association Dustin Corcoran.

Neither of them, as a matter of fact, no one at the table was wearing a mask or social-distancing despite the CMA funding an ad campaign this year urging people to wear masks.
As Politico reported on Monday, a host of California lawmakers all flew to Maui to party with lobbyists as Gov. Newsom threw the state into a vicious second lockdown.



Politico on Wednesday released details on several of the lawmakers who attended:

Nine California lawmakers have now either confirmed their attendance or are presumed to be at the Maui conference based on documentation. The four Republicans and Republican-turned-independent Chad Mayes, of Yucca Valley, were the first to confirm their participation.

Their public responses, though provided after a delay, stand in stark contrast to the silence of Democratic lawmakers presumed to be in attendance. Assemblymember Blanca Rubio (D-Baldwin Park), who reported buying plane tickets on her late October campaign finance filing, finally confirmed her attendance late Wednesday afternoon. A spokesperson for Assemblymember Jose Medina (D-Riverside) also said Wednesday he was on the island.


Another Democrat presumed to be at the conference is Wendy Carrillo (D-Boyle Heights), who sent a tweet on Monday that was location stamped from Kihei, Hawaii, near the conference resort. She sent a statement confirming her participation on Wednesday evening. And POLITICO confirmed through a source at the hotel that Assemblymember Mike Gipson (D-Carson) was there.
As I said Monday: If our ruling class actually thought this virus was a mortal danger, why are they all out partying?

Is it just a coincidence these vicious lockdowns are allowing our ruling class to amass unprecedented power and wealth and implement the radical agenda they're calling "The Great Reset"?


How can anyone view this as anything other than a giant con job?

Follow InformationLiberation on Twitter, Facebook, Gab, Minds and Parler.