George Floyd Swallowed Drugs During May 2019 Arrest: Court Filing
Chris Menahan
InformationLiberation
Sep. 11, 2020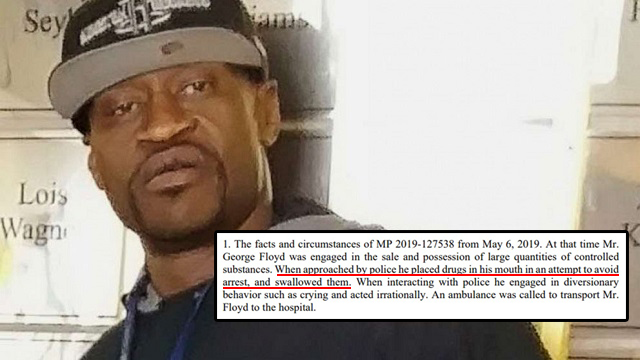 George Floyd swallowed drugs during a prior arrest on May 6, 2019 according to a new court filing that has been completely ignored by the media for two weeks.

Here's the full document from MNCourts.gov (see 1 and 2):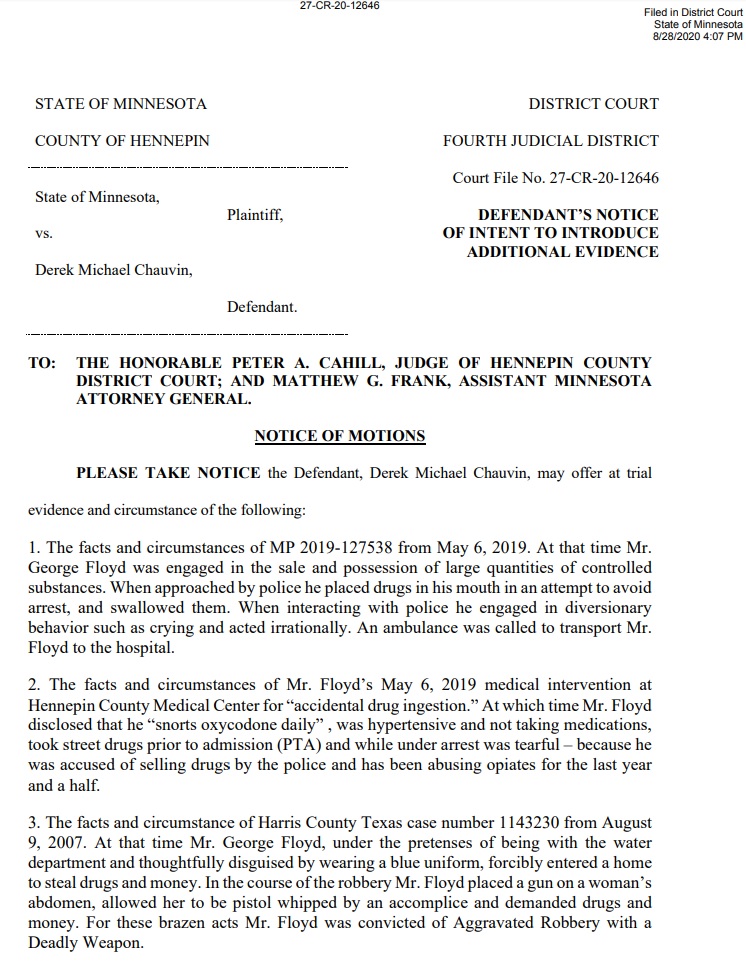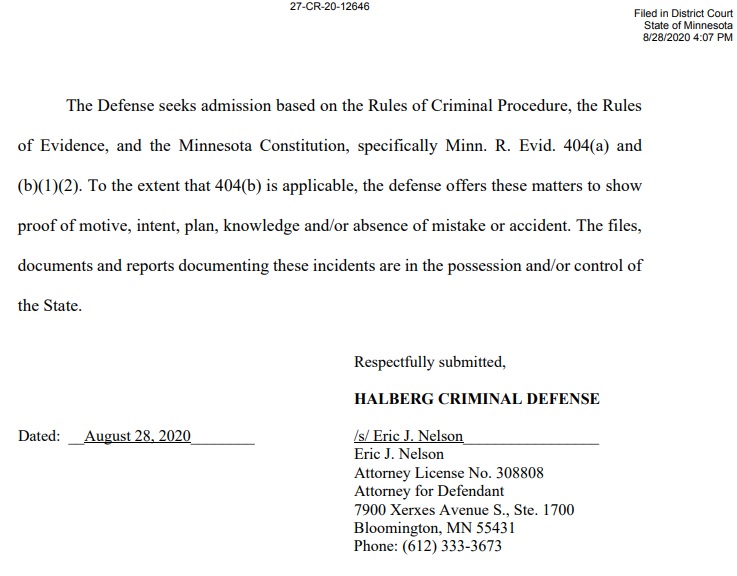 TEXT:

NOTICE OF MOTIONS

PLEASE TAKE NOTICE the Defendant, Derek Michael Chauvin, may offer at trial evidence and circumstance of the following:

1. The facts and circumstances of MP 2019-127538 from May 6, 2019. At that time Mr. George Floyd was engaged in the sale and possession of large quantities of controlled substances. When approached by police he placed drugs in his mouth in an attempt to avoid arrest, and swallowed them. When interacting with police he engaged in diversionary behavior such as crying and acted irrationally. An ambulance was called to transport Mr. Floyd to the hospital.

2. The facts and circumstances of Mr. Floyd's May 6, 2019 medical intervention at Hennepin County Medical Center for "accidental drug ingestion." At which time Mr. Floyd disclosed that he "snorts oxycodone daily" , was hypertensive and not taking medications, took street drugs prior to admission (PTA) and while under arrest was tearful – because he was accused of selling drugs by the police and has been abusing opiates for the last year and a half.

3. The facts and circumstance of Harris County Texas case number 1143230 from August 9, 2007. At that time Mr. George Floyd, under the pretenses of being with the water department and thoughtfully disguised by wearing a blue uniform, forcibly entered a home to steal drugs and money. In the course of the robbery Mr. Floyd placed a gun on a woman's abdomen, allowed her to be pistol whipped by an accomplice and demanded drugs and money. For these brazen acts Mr. Floyd was convicted of Aggravated Robbery with a Deadly Weapon.
The filing was made on August 28th, yet not one single story has been written about it from the local or national media.

There has been widespread speculation for months that Floyd died from ingesting drugs.

Last month, documents revealed Hennepin County Medical Examiner Dr. Andrew Baker determined Floyd had a "fatal level of fentanyl" in his system on top of low levels of meth.

"This level of fentanyl can cause pulmonary edema," Baker determined. "Mr. Floyd's lungs were 2-3x their normal weight at autopsy. That is a fatal level of fentanyl under normal circumstances."

"[Baker] said that if Mr. Floyd had been found dead in his home (or anywhere else) and there were no other contributing factors he would conclude that it was an overdose death."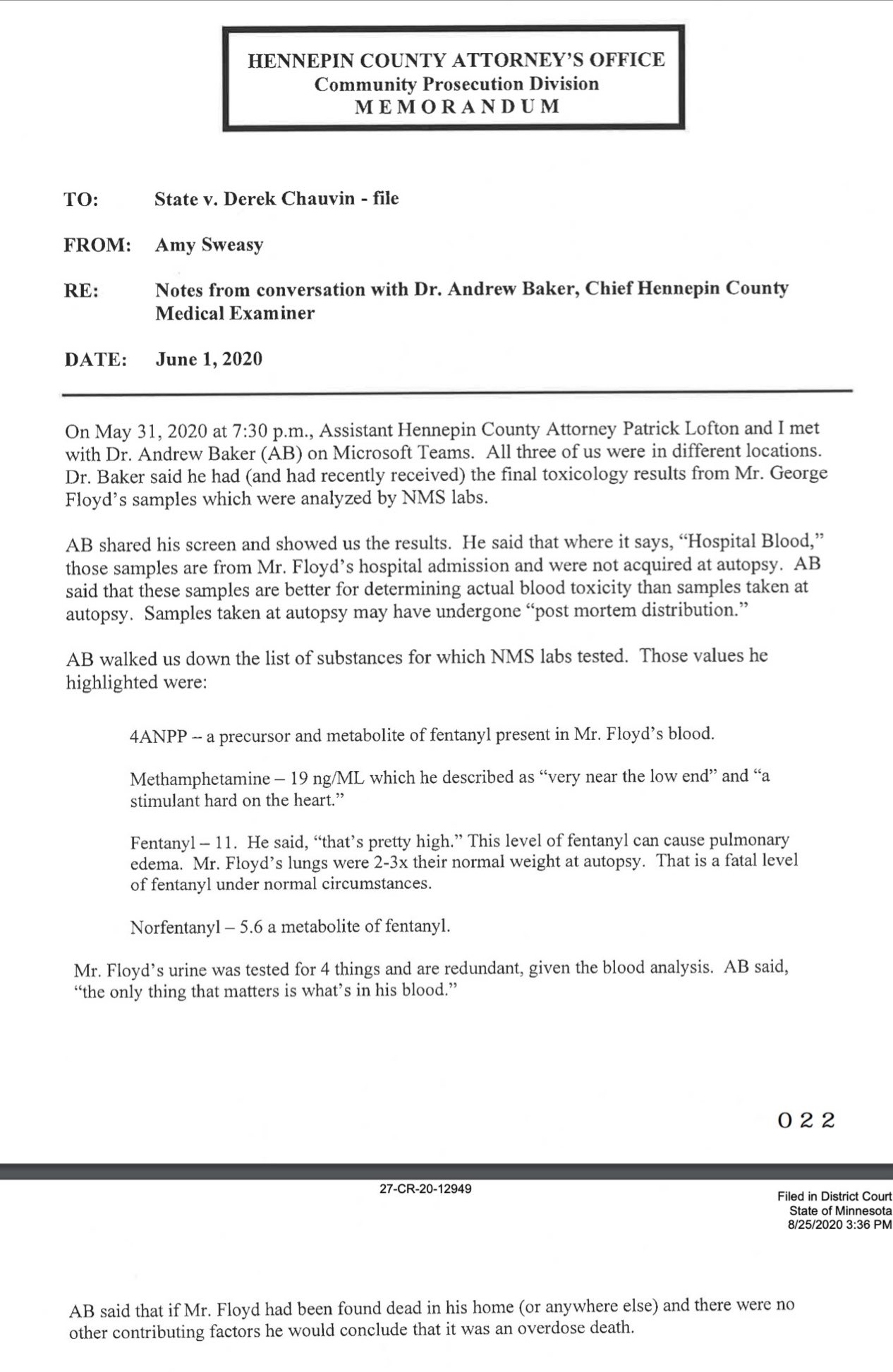 The Hennepin County Medical Examiner's Office official autopsy report also found Floyd had enough fentanyl in his system to kill a person -- as well as a host of heart conditions, including "severe" and multifocal arteriosclerotic heart disease, hypertensive heart disease, an enlarged heart and clinical history of hypertension -- and also had methamphetamine in his system, THC from marijuana in addition to cotinine from cigarettes and caffeine.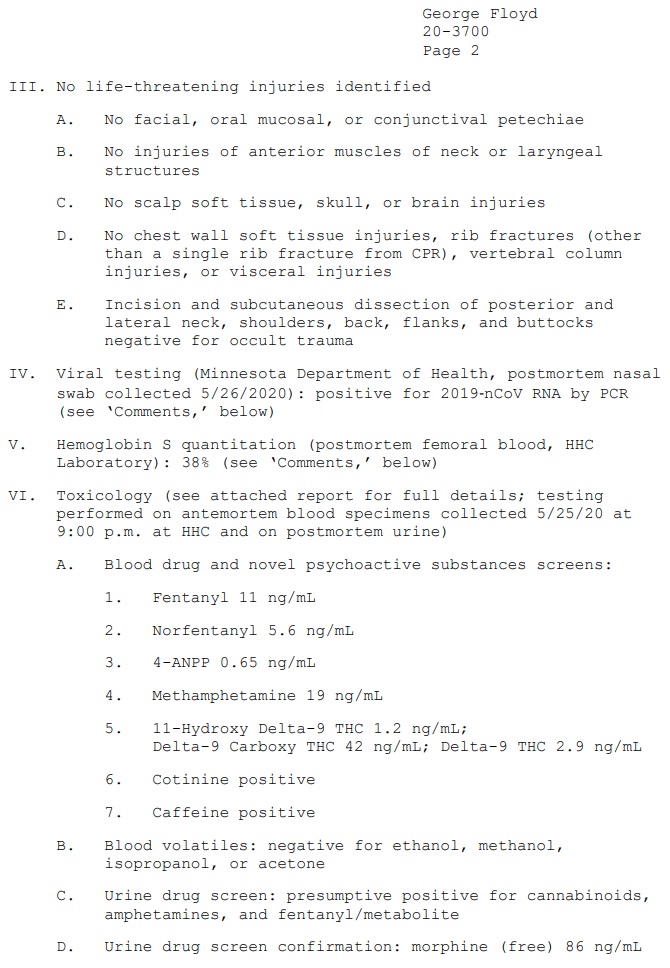 Video of Floyd's arrest -- which was hid from the public for months -- shows he said he couldn't breathe before he was placed on the ground.

Additionally, the video shows it was Floyd who asked police to place him on the ground after relentlessly resisting arrest and refusing to go into the back seat of their police cruiser.

Derek Chauvin is getting a hearing on Friday morning and speculation is running wild that some charges may be dropped.


I highly doubt that's the case but if it does happen brace yourselves for a new wave of "peaceful" riots.



Follow InformationLiberation on Twitter, Facebook and Gab.