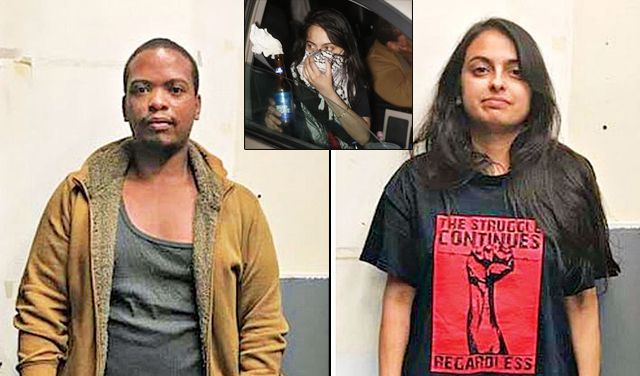 New York Magazine ran a lengthy sob story on Tuesday painting Molotov cocktail-throwing lawyers Urooj Rahman and Colinford Mattis as innocent victims who got caught up in a momentary "lapse of judgement" and torched a police vehicle in the middle of a riot due to the "pain" of white racism and systemic oppression.


From New York Magazine, "The Making of a Molotov Cocktail: Two lawyers, a summer of unrest, and a bottle of Bud Light":

Urooj Rahman faced the camera looking high-strung and distracted, answering questions as her hands waved and flitted around her body and in front of her face as if they were birds escaping from a box. Rahman emigrated from Pakistan when she was 4 and now lives with her elderly mother in Bay Ridge; she works as an attorney at Legal Services in the Bronx, representing tenants without means in eviction proceedings. "This shit won't ever stop unless we fucking take it all down," she said. "We're all in so much pain from how fucked up this country is toward Black lives. This has got to stop, and the only way they hear us is through violence, through the means that they use. 'You got to use the master's tools.' That's what my friend always says."

[...] Mattis was the bigger mystery; the son of immigrants from the Caribbean, raised by a mother who was a home health aide and a foster parent, he never seemed the revolutionary type. He was a corporate lawyer who — after being plucked out of East New York by the scholarship program Prep for Prep — played football at boarding school, joined two eating clubs and a jockish fraternity at Princeton, and, after NYU Law, worked at Holland & Knight and Pryor Cashman, firms where first-year associates earn upwards of $150,000 a year. All his friends say Mattis seemed to wear the world lightly. He was a social guy, a positive force, always available to give friends a ride, always reading a book on the bus, a fashion agnostic who carried the same gray backpack he used in middle school.

[...] Altogether, Rahman and Mattis each face nonnegotiable sentences of 45 years to life.

[...] To be a lawyer is to agree to play by the rules, or at least to acknowledge that the rules exist, even as you seek to bend them. And it is this simplistic, romantic understanding of a lawyer's job that is part of what has the government so provoked, as if going to law school is or should be a safeguard against breaking the law. "The conduct," said U.S. District Court judge Margo Brodie in reference to this case, was "completely lawless." At a recent bail hearing, one of the prosecutors argued similarly. "These were lawyers," he said, "who had every reason to know what they were doing was wrong and knew the consequences. Committing this crime required a fundamental change in mind-set for them."

But to work within that system is to understand just how capricious and brutal criminal justice can be — the enormous latitude given to prosecutors, the deference extended to judges and juries, and the procedural protocols and professional ethics that often merely cover for the status quo. And when a president and his advisers seem to regard the law as an obstacle course; when an attorney general metes out favors, not justice; and when immigrant children are held in cages and men are killed on video by police, some lawyers may want to embrace a more flexible definition of "lawless." As recently as a few years ago, even a progressive-minded lawyer might have regarded fervent, visible participation in a political protest as professionally unbecoming. Today, some of Mattis and Rahman's friends may concede in private that throwing a Molotov cocktail represents a lapse in judgment, but none are willing to discuss the degree to which their friends may have been ethically, professionally, morally, or legally out of bounds. Instead, they emphasize that violence against government property, especially in the midst of political upheaval, is not the same as violence against a person; that the prosecution of their friends for an act of what amounted to political vandalism is far more extreme than the crime itself; that it amounts to a criminalization of dissent and reflects a broader right-wing crusade against people of color and the progressive left — and, as such, demonstrates precisely the horror of the system they were out in the streets that night to protest. There is a version of the Rahman and Mattis story in which they are civil-rights heroes, even martyrs, instead of professionals who crossed a line.

[...] The prosecutors in the national-security unit of the Eastern District of New York — as close to Trump Land as one gets in Brooklyn — must have celebrated when they saw the NYPD record of the arrest: "This case was so juicy for them," says a public defender who is familiar with it. "It's a perfect storm of 'Antifa is a terrorist organization, and here are two lawyers of color we can hang out to dry.' "
Beyond parody.

New York Magazine said their legal strategy is to wait until the election and hope a potential Joe Biden administration will let them off easy.

Follow InformationLiberation on Twitter, Facebook, Gab and Minds.