SCOTUS Saves DACA to Avoid 'Politically Controversial But Legally Correct Decision,' Justice Thomas Says
Chris Menahan
InformationLiberation
Jun. 18, 2020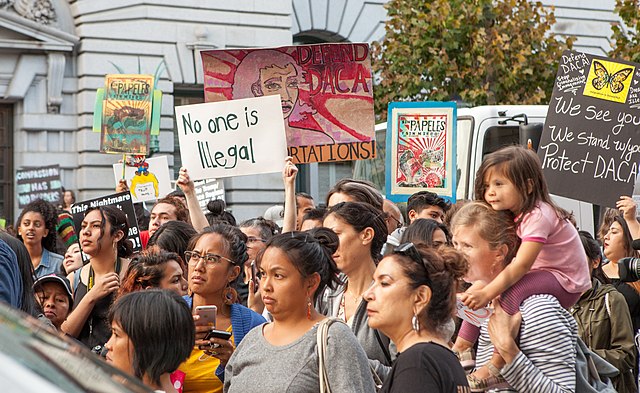 The "conservative" Supreme Court's decision to save former President Barack Obama's DACA amnesty program was "an effort to avoid a politically controversial but legally correct decision," Supreme Court Justice Clarence Thomas said in his dissent on Thursday.

"Under the auspices of today's decision, administrations can bind their successors by unlawfully adopting significant legal changes through Executive Branch agency memoranda," Thomas said. "Today's decision must be recognized for what it is: an effort to avoid a politically controversial but legally correct decision."

Thomas' statement was retweeted by the President:


From Breitbart, "Supreme Court Preserves DACA, Work Permits for 700,000 Illegal Immigrants":

The Supreme Court preserved former President Barack Obama's DACA amnesty in a ruling released Thursday morning, saying that the Trump administration had not properly considered the impact on illegal immigrants before rescinding the executive action.

"Here the agency failed to consider the conspicuous issues of whether to retain forbearance and what if anything to do about the hardship to DACA recipients," said the 5-4 opinion, which was written by Chief Justice John Roberts in cooperation with the four Democrat-nominated judges on the panel:

That dual failure raises doubts about whether the agency appreciated the scope of its discretion or exercised that discretion in a reasonable manner. The appropriate recourse is therefore to remand to DHS so that it may consider the problem anew.

"We do not decide whether DACA or its rescission are sound policies. 'The wisdom' of those decisions 'is none of our concern,'" the court said.

[...] Justice Clarence Thomas, joined by two other judges, dissented, arguing that the Obama administration did not have "statutory authorization" to take the initial action:

Today the majority makes the mystifying determination that this rescission of DACA was unlawful. In reaching that conclusion, the majority acts as though it is engaging in the routine application of standard principles of administrative law. On the contrary, this is anything but a standard administrative law case.

DHS created DACA during the Obama administration without any statutory authorization and without going through the requisite rulemaking process. As a result, the program was unlawful from its inception. The majority does not even attempt to explain why a court has the authority to scrutinize an agency's policy reasons for rescinding an unlawful program under the arbitrary and capricious microscope. The decision to countermand an unlawful agency action is clearly reasonable. So long as the agency's determination of illegality is sound, our review should be at an end.
Trump went on a tweetstorm after the ruling:


The Supreme Court's terrible decisions on Monday were secured thanks to Trump-appointed Justice Neil Gorsuch. Roberts is a "conservative" appointed by Bush.





Conservative Review's Daniel Horowitz reported that Trump could still end DACA under this ruling but probably won't considering he's caved on almost everything:





[Header image by Pax Ahimsa Gethen via Wikicommons, CC BY-SA 4.0]

Follow InformationLiberation on Twitter, Facebook, Gab and Minds.