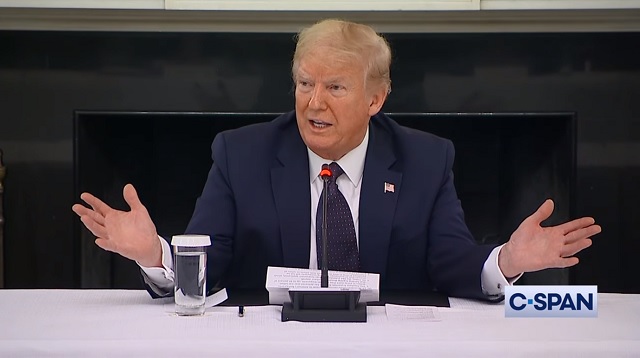 President Donald Trump revealed Monday during a roundtable event that he has been taking hydroxychloroquine for over a week to potentially prevent becoming infected with the coronavirus.

"A lot of good things have come out on the hydroxy," Trump said. "I'm taking hydroxychloroquine. I've been taking it. I hope to not be able to take it soon. But I think people should be allowed to."

"I happen to be taking it," Trump said. "A lot of good things have come out. You'd be surprised at how many people are taking it, especially the front-line workers. Before you catch it. The front-line workers, many, many are taking it."

WATCH:



Trump also criticized the "so-called HHS whistleblower" on Twitter for being against hydroxychloroquine and questioned why he chose to "make, and sign, an emergency use authorization" for the drug.


As The Wall Street Journal reported in March, there's reason to believe the drug may work as a preventative.

From WSJ:

During the initial Chinese outbreak, Wuhan doctors observed that patients with lupus—a disease for which HC is a common treatment—did not seem to develop Covid-19. Of 178 hospital patients who tested positive, none had lupus and none were on HC. None of this Wuhan hospital's dermatology department's 80 lupus patients were infected with the novel coronavirus. The Wuhan doctors hypothesized that this may be due to long-term use of HC. They treated 20 Covid-19 patients with HC. Their result: "Clinical symptoms improve significantly in 1 to 2 days. After five days of chest CT examination, 19 cases showed significant absorption improvement."
The media has been waging a "jihad" against hydroxychloroquine (to quote AG William Barr) yet they've been uncritically hyping unproven, theoretical vaccines as a cure-all for CV and even suggested men should take estrogen.


It was reported last week that a new study found men with low testosterone are actually more likely to die from the virus, so anyone who has taken their idiotic advice is likely now at greater risk of death.

That Trump is taking hydroxychloroquine and has been on it for weeks certainly puts the lie to the claim he was just hyping it to give people hope with zero regard for the consequences. He believes in it enough to be taking it himself and his doctors signed off on it.

The media hacks who've been hyping unproven vaccines and estrogen should show their commitment and sign up to be the first injected or chemically castrated.

Follow InformationLiberation on Twitter, Facebook, Gab and Minds.