The New York Times and other major media outlets are hyping estrogen for men as a new experimental treatment for the coronavirus and are applying little if any of the skepticism they've shown towards chloroquine.

Whereas every possible side effect of chloroquine and hydroxychloroquine have been highlighted ad nauseam and junk studies were wildly hyped to suggest it's killing people en masse, you'd think by reading the media's headlines that giving men estrogen was a panacea.

"Men are dying from coronavirus at higher rates. Could estrogen save them?" said one headline from Mic.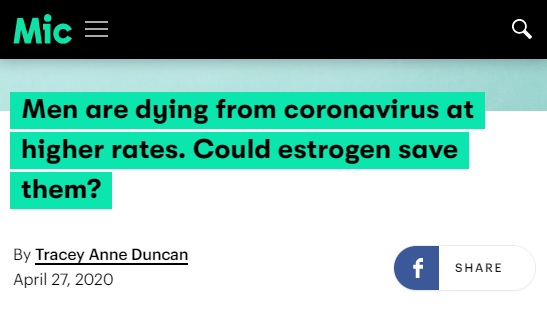 "Can Estrogen and Other Sex Hormones Help Men Survive Covid-19?" said a headline from the New York Times.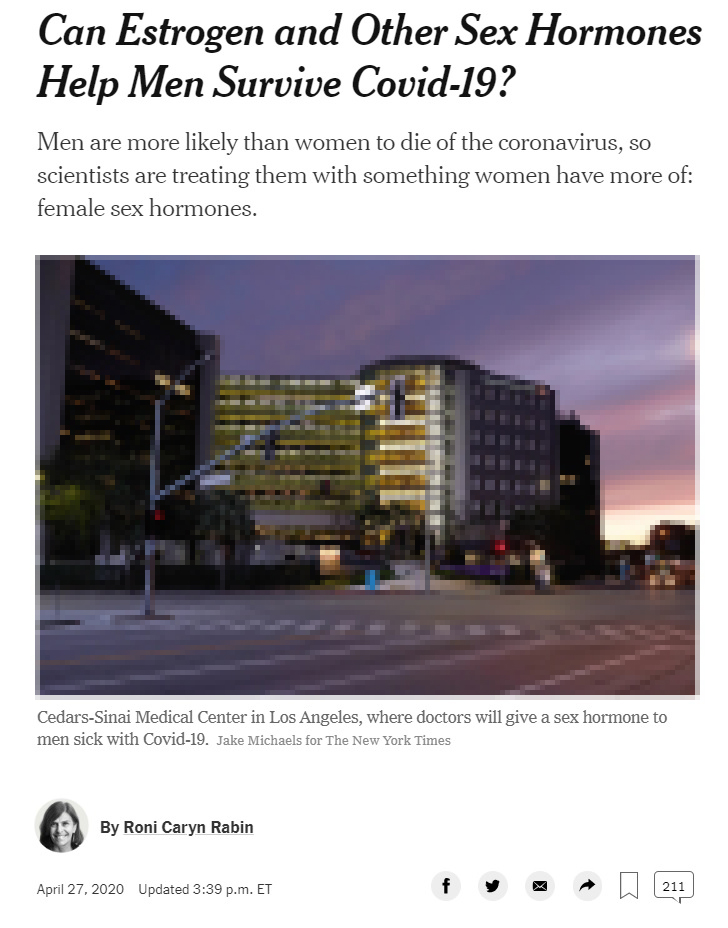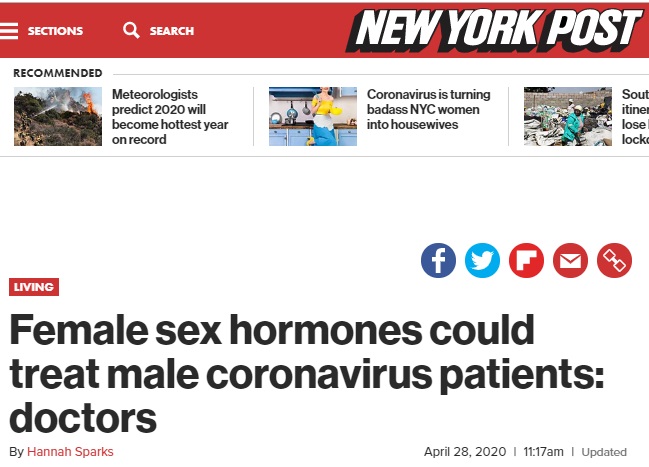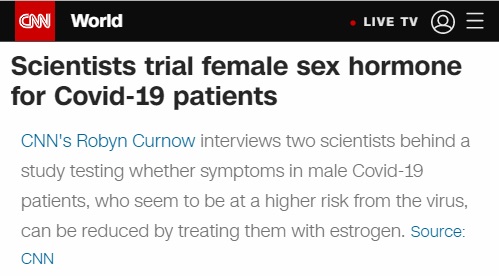 Roni Caryn Rabin in the New York Times hyped the gender-bending treatment in her article titled, "Can Estrogen and Other Sex Hormones Help Men Survive Covid-19?":

As the novel coronavirus swept through communities around the world, preying disproportionately on the poor and the vulnerable, one disadvantaged group has demonstrated a remarkable resistance. Women, whether from China, Italy or the U.S., have been less likely to become acutely ill — and far more likely to survive.

Which has made doctors wonder: Could hormones produced in greater quantities by women be at work?

Now scientists on two coasts, acting quickly on their hunches in an effort to save men's lives, are testing the hypothesis. The two clinical trials will each dose men with the sex hormones for limited durations.

Last week, doctors on Long Island in New York started treating Covid-19 patients with estrogen in an effort to increase their immune systems, and next week, physicians in Los Angeles will start treating male patients with another hormone that is predominantly found in women, progesterone, which has anti-inflammatory properties and can potentially prevent harmful overreactions of the immune system.
Note: doctors giving out estrogen to "increase" men's immune systems is just fine but doctors giving out intravenous vitamin C to boost folks immune systems get raided by the FBI.
"There's a striking difference between the number of men and women in the intensive care unit, and men are clearly doing worse," said Dr. Sara Ghandehari, a pulmonologist and intensive care physician at Cedars-Sinai in Los Angeles who is the principal investigator for the progesterone study. She said 75 percent of the hospital's intensive care patients and those on ventilators are men.

And pregnant women, who are usually immunocompromised but have high levels of estrogen and progesterone, tend to have mild courses of the disease. "So something about being a woman is protective, and something about pregnancy is protective, and that makes us think about hormones," Dr. Ghandehari said.
Rabin waited until paragraph 7 to inform readers of the (mildest) side effects:

Some experts who study sex differences in immunity, however, warned that hormones may fail to be the magic bullet that some are hoping for; even elderly women with Covid-19 are outliving their male peers, and there is a drastic reduction in levels of hormones for women after menopause.
She also included one line in the final paragraph (number 27) noting potential side effects:

Both hormones are believed to be safe, especially when used for short durations. Participants will be warned of possible side effects that may be a first for many men, like tenderness in the breast and hot flashes.
Drugs.com has a list of side effects for progesterone a mile long -- which include death.

The most common are listed as "chest pain, chills, cold or flu-like symptoms, cough or hoarseness, fever" and "problems with urination."

I guess Times readers are only entitled to know of the side effects of chloroquine and hydroxychloroquine!

As I reported two weeks ago, the media also hyped the expensive and unproven Gilead drug Remdesivir with little skepticism based off a single report citing leaked information that may have been part of an insider trading scam.

A later leaked report found the much-hyped Remdesivir "flopped" during its first clinical trial.

Follow InformationLiberation on Twitter, Facebook, Gab and Minds.