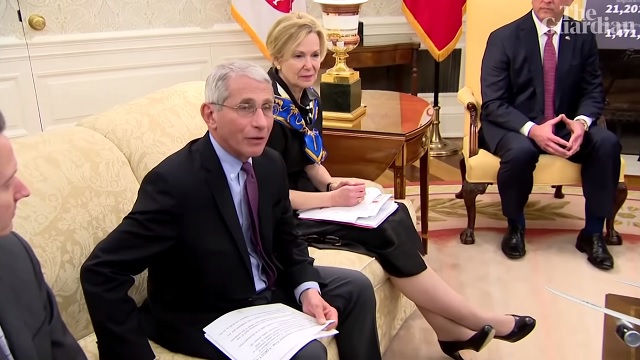 Anthony Fauci had no issue with making sweeping claims praising Gilead's expensive drug Remdesivir allegedly showing a "clear-cut, significant, positive effect" in diminishing recovery time for hospitalized coronavirus patients by an average of four days in an early clinical trial.



From The Washington Post:

"The data shows that remdesivir has a clear-cut, significant, positive effect in diminishing the time to recovery," Anthony S. Fauci said alongside Trump at the White House on Wednesday. "That is really quite important."

The National Institute of Allergy and Infectious Diseases, which Fauci leads, is overseeing a study of more than 1,000 patients in the United States and around the world.

The study showed that patients treated with remdesivir were ready to be discharged from the hospital within 11 days, on average, compared with an average of 15 days for patients who had received a placebo.

While not a "knockout," Fauci said that shows an important and promising avenue for further study. "What it has proven is that a drug can block this virus," Fauci said.

Remdesivir can have serious side effects, according to previous trial results, including loss of kidney function and declining blood pressure. Those symptoms are caused by severe cases of covid-19, as well, making it difficult to determine which problems were caused by the drug and which by the illness.

The NIAID study is the most rigorous test to date of the potential treatment because it is a double-blind, placebo-controlled trial, the gold standard for seeing whether a drug is safe and effective.

The study showed only a marginal benefit in the rate of death. Fauci said that a death rate of 8 percent for those taking the drug versus 11 percent for those taking the placebo is not statistically significant but that the results will undergo further analysis.
Fauci, through his position as the director of the National Institute of Allergy and Infectious Diseases, chose to fund this study earlier this year.



WBUR reported on several important "caveats" from the study:

Dr. Aneesh K. Mehta, an investigator at the remdesivir trial site at Emory University, is optimistic about the drug's potential, based on the preliminary data. "We believe that remdesivir is the first medication to show a positive effect on patients with COVID-19," he said at a news conference.

He also offered a few caveats.

First, he underlined that this is preliminary data, based on about half the patients in the trial, and that it "has not undergone the robust analysis that will be conducted by the statisticians and the scientists at the NIH in the coming weeks."

And while the preliminary data showed no serious side effects of remdesivir, "we still don't have all the safety data reported from the NIH, and that will be critically important to understanding how we use this medicine in the future," he said.

Mehta also noted that remdesivir isn't a cure-all.

"It is very important to understand that remdesivir and antivirals in general are not silver bullets," he said. "They do not immediately get rid of an infection. They work by slowly preventing the virus from making more of itself."

Patients still need other care to support their recovery, he said, especially if the inflammation that can be associated with COVID-19 has already damaged their organs.

Fauci said that new studies will examine combining remdesivir with other drugs, such as an anti-inflammatory drug, to see how those compare with using remdesivir alone.

Gilead Sciences also announced on Wednesday that a trial had found that patients receiving a 10-day treatment course of remdesivir achieved similar improvement in clinical status compared with those taking a five-day treatment.

"The study demonstrates the potential for some patients to be treated with a 5-day regimen, which could significantly expand the number of patients who could be treated with our current supply of remdesivir," Dr. Merdad Parsey, chief medical officer of Gilead Sciences, said in a statement.

A separate study, published Wednesday in the medical journal The Lancet and including 237 critically ill patients in Wuhan, China, found that remdesivir did not provide significant clinical benefits to those hospitalized with COVID-19. But the authors cautioned that the interpretation of their results is limited. The study was stopped early because of difficulty recruiting enough patients after the outbreak was brought under control there. They concluded that further study of remdesivir is needed.

That study was "underpowered," said Fauci. "I don't like to pooh-pooh other studies, but that's not an adequate study, and everybody in the field feels that."
Remdesivir was developed to fight Ebola but ultimately found to be ineffective.

Biospace reported last month that "about 25% of patients receiving [Remdesivir] have severe side effects, including multiple-organ dysfunction syndrome, septic shock, acute kidney injury and low blood pressure."

"Another 23% demonstrated evidence of liver damage on lab tests," Biospace reported.

Earlier estimates predicted a course of Gilead-owned Remdesivir may cost around $1,000.

Follow InformationLiberation on Twitter, Facebook, Gab and Minds.