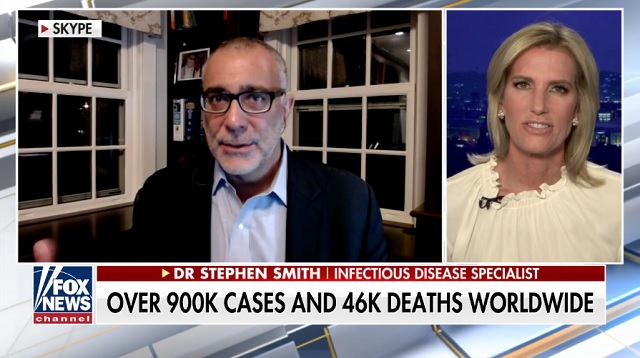 Dr Stephen Smith, founder of The Smith Center for Infectious Diseases and Urban Health, said Wednesday night on Fox News that he's been treating all his patients with hydroxychloroquine and azithromycin and not one who has been on the regimen for over five days has needed to be intubed.


From Fox News, "Dr. Stephen Smith on effectiveness of hydroxychloroquine: 'I think this is the beginning of the end of the pandemic'":

"I think this is the beginning of the end of the pandemic. I'm very serious," Smith, an infectious disease specialist, told host Laura Ingraham.

Currently there is no known cure for the coronavirus pandemic ravaging the globe.

Smith, who is treating 72 COVID-19 patients, said that he has been treating "everybody with hydroxychloroquine and azithromycin [an antibiotic]. We've been doing so for a while."

He pointed out that not a single COVID-19 patient of his that has been on the hydroxychloroquine and azithromycin regimen for five days or more has had to be intubated.

"The chance of that occurring by chance, according to my sons Leon and Hunter who did some stats for me, are .000-something," he said, adding that "it's ridiculously low."

Smith explained that "intubation means actually putting a tube down into your trachea and then you're placed on the ventilator for respiratory support."
The New York Times reported Wednesday on yet another study, this time from China, suggesting hydroxychloroquine is effective.

From The New York Times, "Malaria Drug Helps Virus Patients Improve, in Small Study":

The malaria drug hydroxychloroquine helped to speed the recovery of a small number of patients who were mildly ill from the coronavirus, doctors in China reported this week.

Cough, fever and pneumonia went away faster, and the disease seemed less likely to turn severe in people who received hydroxychloroquine than in a comparison group not given the drug. The authors of the report said that the medication was promising, but that more research was needed to clarify how it might work in treating coronavirus disease and to determine the best way to use it.

[...] Their disease was considered mild, even though all had pneumonia that showed up on CT scans. After giving informed consent, they were assigned at random to either the hydroxychloroquine or the control group. They were treated for five days, and their fevers and coughing were monitored. They also had chest CT scans the day before the study treatment began, and the day after it ended.

Coughing and fever eased a day or so earlier in the patients who received hydroxychloroquine, and pneumonia improved in 25 of 31, as opposed to 17 of 31 in the controls.

The illness turned severe in four patients — all in the control group.

Two patients had minor side effects from hydroxychloroquine: One had a rash and another had a headache.
From the study:

From February 4 to February 28, 2020, 62 patients suffering from COVID-19 were diagnosed and admitted to Renmin Hospital of Wuhan University. All participants were randomized in a parallel-group trial, 31 patients were assigned to receive an additional 5-day HCQ (400 mg/d) treatment, Time to clinical recovery (TTCR), clinical characteristics, and radiological results were assessed at baseline and 5 days after treatment to evaluate the effect of HCQ. Key findings: For the 62 COVID-19 patients, 46.8% (29 of 62) were male and 53.2% (33 of 62) were female, the mean age was 44.7 (15.3) years. No difference in the age and sex distribution between the control group and the HCQ group. But for TTCR, the body temperature recovery time and the cough remission time were significantly shortened in the HCQ treatment group. Besides, a larger proportion of patients with improved pneumonia in the HCQ treatment group (80.6%, 25 of 32) compared with the control group (54.8%, 17 of 32). Notably, all 4 patients progressed to severe illness that occurred in the control group. However, there were 2 patients with mild adverse reactions in the HCQ treatment group. Significance: Among patients with COVID-19, the use of HCQ could significantly shorten TTCR and promote the absorption of pneumonia.
Dr Jeff Colyer, the former governor of Kansas who is a practicing physician, reported Sunday in the Wall Street Journal that the combination of hydroxychloroquine and azithromycin was showing "promising" results in coronavirus patients in Kansas and noted how doctors and patients in China who were already on the drug seemed to avoid catching COVID-19:

During the initial Chinese outbreak, Wuhan doctors observed that patients with lupus—a disease for which HC is a common treatment—did not seem to develop Covid-19. Of 178 hospital patients who tested positive, none had lupus and none were on HC. None of this Wuhan hospital's dermatology department's 80 lupus patients were infected with the novel coronavirus. The Wuhan doctors hypothesized that this may be due to long-term use of HC. They treated 20 Covid-19 patients with HC. Their result: "Clinical symptoms improve significantly in 1 to 2 days. After five days of chest CT examination, 19 cases showed significant absorption improvement."
Hydroxychloroquine is very cheap and easy to mass produce.

Follow InformationLiberation on Twitter, Facebook, Gab and Minds.