Chinese Woman Filmed Herself 'Buying Out' N95 Masks, Bragged She 'Left Nothing For The Americans'
Chris Menahan
InformationLiberation
Apr. 01, 2020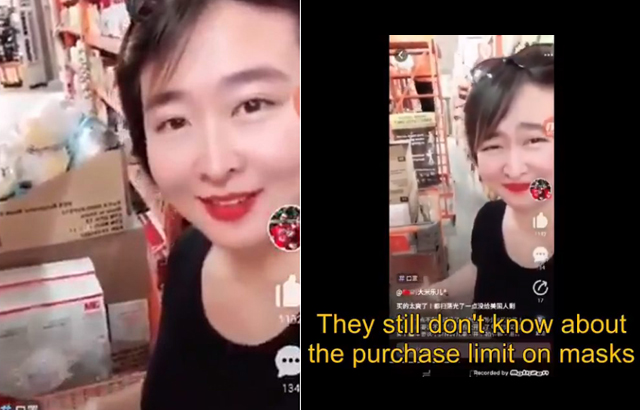 A Chinese woman allegedly filmed herself travelling all over Florida and buying out N95 masks while laughing about leaving "nothing for the Americans."

She shared videos of her escapade on the Chinese social media site Weibo:


"They still don't know about the purchase limit on masks," the woman says while laughing. "I bought all the masks, the shelves are empty, you can see my sweat ... I feel like a thief."



She allegedly resells products from Costco on the regular (I found no evidence she dodges any taxes as the below post claims):


She can be seen in the above video being aided by her white husband. Neither stand accused of any criminal wrongdoing.

Their case is not unique.

As I reported yesterday, Brooklyn man Baruch Feldheim was arrested by the FBI on Monday for allegedly hoarding some 80,000 N95 masks, trying to sell them at a 700% markup and coughing on an FBI agent and claiming he had the coronavirus when he was placed under arrest.


Last week it was reported that Chinese companies shipped out millions of N95 masks, hand sanitiser, gloves and other essential medical supplies from Australia, Canada, Turkey and more after ordering all their workers to buy out every store they could.


Western nations have been hit with massive medical supply shortages since January.

Follow InformationLiberation on Twitter, Facebook, Gab and Minds.