Tucker Carlson Slams Judge Amy Berman Jackson: 'She Should Be Impeached!'
Chris Menahan
InformationLiberation
Feb. 25, 2020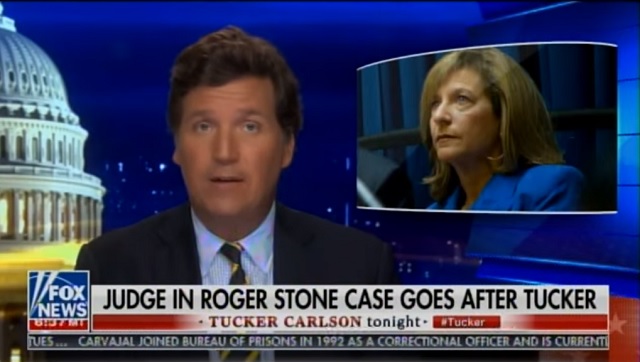 On his show Tuesday night, Fox News host Tucker Carlson called for Judge Amy Berman Jackson to be impeached for being a "corrupt" and "out of control" serial liar.



From The Gateway Pundit:

On Tuesday Roger Stone and his lawyers appeared in court to request a new trial after it was revealed the lead juror was biased and posted tweets attacking Trump and Roger Stone.

Stone's lawyers asked for a new trial after it was revealed jury forewoman Tomeka Hart lied to the Court during her testimony when she claimed she didn't really know who Roger Stone was.

During the proceedings today demon Judge Amy Berman Jackson complained about critical media reports on her outrageous conduct in the courtroom.

Tonight Tucker Carlson called on the corrupt Amy Berman Jackson to be impeached.

Tucker Carlson: "She should be impeached. She's corrupt. She's out of control."
The evidence strongly suggests the jury foreman lied repeatedly under oath about her knowledge of Stone's case:



"There has rarely been a juror so tainted as the forewoman in the Roger Stone case," President Trump tweeted on Tuesday. "Look at her background. She never revealed her hatred of 'Trump' and Stone. She was totally biased, as is the judge. Roger wasn't even working on my campaign. Miscarriage of justice. Sad to watch!"


See the Gateway Pundit's lengthy analysis of her long list of Berman Jackson's disturbing rulings and watch Tucker's past exposés on her:





Follow InformationLiberation on Twitter, Facebook, Gab and Minds.