Judge Amy Berman Jackson Says Congressional Investigators Were Not Part Of An 'Anti-Trump Cabal'
Chris Menahan
InformationLiberation
Feb. 20, 2020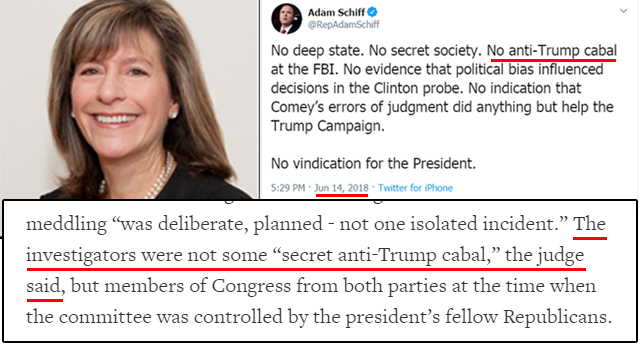 Judge Amy Berman Jackson said Thursday while sentencing Roger Stone to over three years in prison that Russia probe investigators in congress like Adam Schiff were not part of an "anti-Trump cabal."

Rep Adam Schiff, the House Intelligence Committee Chairman who led the probe, just so happens to have made the same comment two years ago.

From Reuters, "Trump adviser Stone sentenced to 3-1/3 years in prison for lying in Russia probe":

A federal judge on Thursday sentenced President Donald Trump's long-time adviser Roger Stone to three years and four months in prison and said his lies to lawmakers investigating Russian interference in the 2016 U.S. presidential election amounted to a threat to American democracy.

In a stern lecture during a 2-1/2-hour sentencing hearing for the veteran Republican operative, U.S. District Judge Amy Berman Jackson also delivered an implicit rebuke to Trump, who has attacked her along with the jury and prosecutors in the high-profile case.

"There was nothing unfair, phoney or disgraceful about the investigation or the prosecution," Jackson said, citing words that the Republican president has used.

[...] "He was not prosecuted - as some have complained - for standing up for the president. He was prosecuted for covering up for the president," Jackson said.

"The truth still exists. The truth still matters," Jackson added. "Roger Stone's insistence that it doesn't, his belligerence, his pride in his own lies are a threat to our fundamental institutions - to the very foundation of our democracy."

[...] The judge noted that Stone was not charged with or convicted of having any role in conspiring with Russia. But Jackson said Stone's effort to obstruct a congressional investigation into Russian election meddling "was deliberate, planned - not one isolated incident." The investigators were not some "secret anti-Trump cabal," the judge said, but members of Congress from both parties at the time when the committee was controlled by the president's fellow Republicans.
Lead congressional investigator Adam Schiff two years ago on Twitter brushed off claims of bias in the RussiaGate probe by saying there was "No secret society" and "No anti-Trump cabal at the FBI."


Really makes you think.

Follow InformationLiberation on Twitter, Facebook, Gab and Minds.