Abby Martin Sues State of Georgia Over Law Requiring Americans to Sign Pro-Israel Loyalty Oath
"The state of Georgia blocked me from speaking because I refused to sign a loyalty pledge to Israel."
Chris Menahan
InformationLiberation
Feb. 13, 2020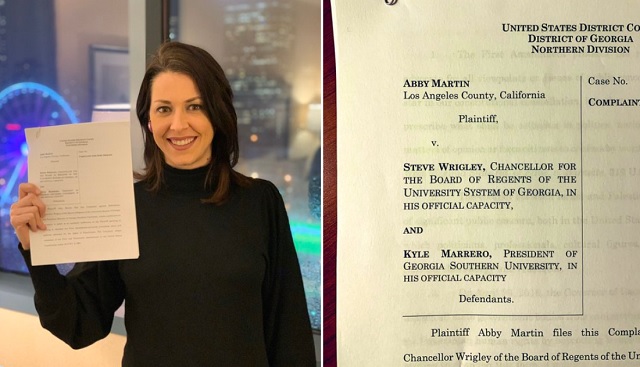 Journalist Abby Martin was blocked from delivering a keynote speech at Georgia Southern University in January for refusing to "sign a contractual pledge to not boycott Israel" in compliance with Georgia's anti-Boycott, Divest and Sanctions law.

"After I was scheduled to give keynote speech at an upcoming @GeorgiaSouthern conference, organizers said I must comply with Georgia's anti-BDS law and sign a contractual pledge to not boycott Israel," Martin said Jan 10 on Twitter. "I refused and my talk was canceled. The event fell apart after colleagues supported me."


On Sunday night, Martin announced she was suing the state of Georgia for violating her First Amendment rights.

"The state of Georgia blocked me from speaking because I refused to sign a loyalty pledge to Israel," Martin said. "I'm excited to announce my lawsuit with CAIR National and the Partnership for Civil Justice Fund to challenge this blatant violation of my constitutional rights."




"My aim here is to overturn these laws that violated my rights, the rights of likely thousands of contractors, and that violate the U.S. Constitution every single day," Martin said.

From the AP, "Filmmaker who wouldn't sign Georgia's Israel oath sues state":

A documentary filmmaker who refused to sign Georgia's required oath involving Israel is suing the state, saying the law is in violation of free speech rights guaranteed by the U.S. Constitution.

A Georgia law passed in 2016 requires some people to sign an oath pledging not to boycott Israel in order to do business with the state of Georgia.

In her federal lawsuit, Abby Martin says she refused to sign the oath, and her scheduled appearance this month at a Georgia Southern University media conference was then cancelled.

"I will not forfeit my constitutional rights by signing this pledge," Martin said at a Monday news conference to announce the lawsuit.
"Two days after I filed a lawsuit challenging Georgia's unconstitutional law against boycotting Israel, Israeli Prime Minister responds by threatening any state that allows BDS," Martin said Wednesday on Twitter, highlighting a tweet from the Israeli Prime Minister's Office boasting about interfering in America's legal system to favor a foreign state. "A foreign country is using economic punishment to dictate the constitutional rights of Americans."



It's worth noting that last year the titans of Hollywood and the streaming giant Netflix threatened to boycott the state of Georgia for passing an anti-abortion law without facing any legal repercussions.


It's perfectly legal for Americans to organize a boycott of the state of Georgia but it's illegal for Americans to organize a boycott against the state of Israel.

What does that tell you about America?

Follow InformationLiberation on Twitter, Facebook, Gab and Minds.