Super Bowl, 2020: Middle-Aged Strippers Lip Sync Tunes In Spanish
Chris Menahan
InformationLiberation
Feb. 02, 2020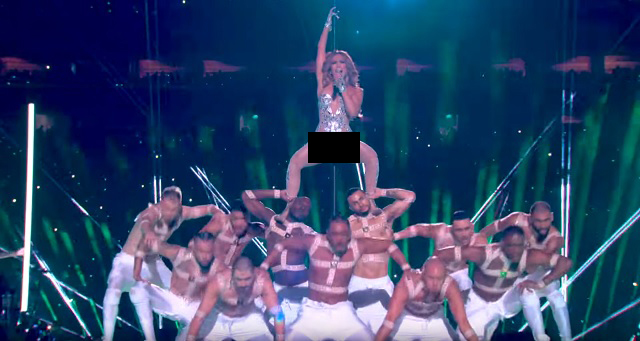 History made!

From Grabien, "JLo Rubs Crotch, Dances on Stripper Bowl During Super Bowl Halftime":

In an already sex-charged Super Bowl half-time performance, JLo took it up a notch, rubbing her crotch area and then performing on a stripper pole.

The dance came during early into her four-song medley, while performing "Waiting for Tonight." JLo slid across the stage, toward an awaiting camera, while moving her fingers across her crotch area. A stripper pole was then erected on stage, and JLo danced above her backup dancers.
This is exactly what Soviet defector Yuri Bezmenov was talking about when he discussed the communists' demoralization campaigns.



We're all supposed to act like we enjoyed watching middle-aged strippers (J-Lo is 50 and Shakira is 43) lip syncing their decade-old greatest hits, performing in Spanish and faking guitar performances while a Puerto Rican rapper rapped about "Latino gangs" and praised "La Raza" (The Race).

Also, don't forget the D-rate yodeling:


This whole performance was an act of ritual humiliation targeting middle Americans.





On the bright side, at least Jeb Bush enjoyed it!


Follow InformationLiberation on Twitter, Facebook, Gab and Minds.