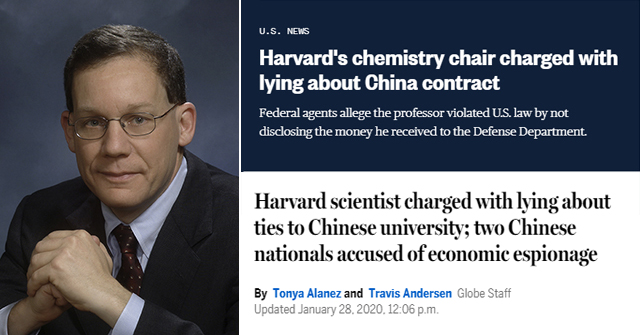 Harvard University's Department of Chemistry and Chemical Biology chair, Charles Lieber, was hit with "extremely serious" charges on Tuesday for allegedly hiding a contract with China's Wuhan Institute of Technology involving a program which the FBI says "rewarded individuals for stealing proprietary information and violating export controls."

Two other Chinese nationals were also charged and accused of economic espionage.


From NBC News, "Harvard's chemistry chair charged with lying about China contract":

Federal prosecutors on Tuesday charged a top Harvard University scientist with lying to the Department of Defense about his work for a Chinese-run talent recruitment program.

Charles M. Lieber, the chair of Harvard's Department of Chemistry and Chemical Biology, allegedly violated federal law by not disclosing his involvement in China's Thousand Talents Plan to the Defense Department, including money he received, according to the charging document.
[...] The Thousand Talents program tries to recruit experts from Western universities to work in China and ramp up its progress in science and technology. In a complaint, the FBI said the program has "rewarded individuals for stealing proprietary information and violating export controls."

The charging documents, unsealed Tuesday, allege that under the Thousand Talents contract Lieber was paid $50,000 in monthly salary by China's Wuhan University of Technology and another $158,000 in living expenses. He was also awarded some $1.74 million to set up a research lab there.

Lieber additionally made false statements to the National Institutes of Health about his involvement in the recruitment plan and his affiliation with the Chinese university. He was in federal custody as of Tuesday afternoon, a senior federal law enforcement official told NBC News.
More from Mass Live, "Chinese national Zaosong Zheng accused of stealing vials of biological materials from Beth Israel Deaconess Medical Center, trying to smuggle the items to China":

A Chinese researcher has been accused of trying to smuggle vials of biological materials out of the country that authorities allege he stole from Beth Israel Deaconess Medical Center in Boston.

The U.S. Attorney announced Tuesday that Zaosong Zheng, a 30-year-old Chinese citizen is being charged with making a false, fictitious and fraudulent statement after being stopped by U.S. Customs and Border Protection at Logan International Airport on Dec. 10 as he was preparing to board a flight for Beijing, China.
The announcement was one of three cases the U.S. Attorney's office said were just the latest in "a massive, long-term campaign to steal U.S. technology."

According to court documents, U.S. Customs agents identified Zheng as "at high risk" for possibly exporting undeclared biological materials.

Agents accessed Zheng's luggage and discovered 21 vials wrapped in plastic bags and concealed in a sock, records state. The vials contained brown liquid and included hand-written labels and notes. Zheng is accused of taking the vials from the medical center on Dec. 9.
Lieber received an award from the Israeli Wolf Foundation back in 2012 for his work on nanowires.

Lieber's website for "The Lieber group" lists such sponsors as the Office of Naval Research, Defense Advanced Research Projects Agency, Air Force Office of Scientific Research, National Institutes of Health and MITRE.

NBC Boston reported Tuesday that Lieber "faces up to 5 years in prison and a $250,000 fine if convicted."


Follow InformationLiberation on Twitter, Facebook, Gab and Minds.