'It's OK to be White' Labeled a 'Racial Hatred Message' by UK Media
Chris Menahan
InformationLiberation
Jan. 22, 2020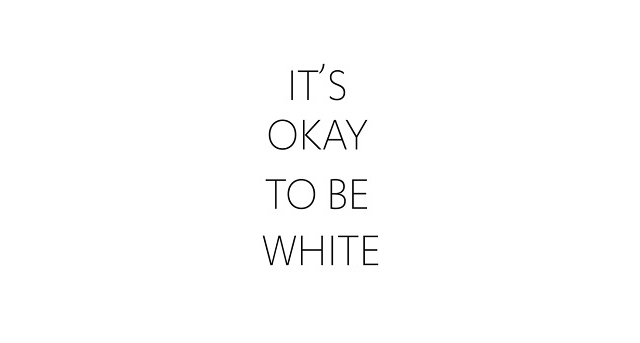 The statement "It's OK to be white" is a "racial hatred message" which "takes aim at people of colour," at least according to the UK media.

Southport's OTS News ran an article last week on some graffiti painted on a park wall saying "It's ok to be white" with the title, "Racial hatred message daubed on park wall."

From OTS News (HT: National File):

Racist and anti ethnic graffiti has been daubed in 20 foot high letters on the side of a gable wall in Southport.

The massive graffiti which takes aim at people of colour reads 'it's ok to be white' was painted on the side wall adjacent to Bedford Park in Southport overnight.

Shocked residents in the area said they were appalled to wake up to face the graffiti and have called the police and council to sort it out.
Last month, Scotland's deputy first minister John Swinney said some posters saying "It's Okay to be White" that were put up around Perth were "atrocious," "unacceptable" and have "no place in Perth or any other part" of Scotland.


Newsweek described the posters as "racist."


Here in America, Western Connecticut State University president John Clark in November called in the FBI to investigate IOTBW flyers which he labeled "disgusting," "despicable" and "utterly unacceptable" and a student at the Oklahoma City University School of Law was even expelled after posting said flyers.

The clear message being sent is "it's not okay to be white."

This attitude corresponds with a new phenomenon found exclusively among white liberals whereby they view their own in-group in a negative light.

As American Greatness reported last year:

In-group bias is a widely recognized phenomenon. In recent survey data, every group measured--from black conservatives to Asian-moderates--shows a significant, and unsurprising, in-group preference. Except for white liberals, who show significant out-group bias--meaning white liberals prefer nonwhites to whites.

[...] Out-group bias is not shared by liberal Asians, Latinos or African Americans, all of whom have more typical in-group preferences.

The recent GenForward survey from the University of Chicago, the first nationally representative survey of youth focused on race and ethnicity, suggests that young white liberals harbor a dislike for whites. (I am indebted to Zach Goldberg, a doctoral student at Georgia State University, who graphed all of the survey data presented here.)



When looking at the GenForward data (all surveys were done confidentially online to minimize social desirability bias), whites of all ethnic groups had the lowest in-group bias, with moderates having a slightly higher bias than white conservatives. This would seem to counter the notion pushed by many on the Left that contemporary conservatism is some sort of stalking horse for white nationalism.

Using the even larger American National Election Studies (ANES) dataset that includes voters of all ages, we observe the same phenomenon. African-Americans show the highest in-group bias independent of ideology.



Hispanics and Asians are bunched in the middle, with no obvious ideological relationship between in-group bias and ideology. But apart from liberal whites, every group has a substantial in-group preference. In this respect, white liberals really are exceptional.
Follow InformationLiberation on Twitter, Facebook, Gab and Minds.