Def Sec Esper Says He 'Didn't See' Specific Evidence Showing Iran Plotting Attacks On 4 U.S. Embassies
Chris Menahan
InformationLiberation
Jan. 13, 2020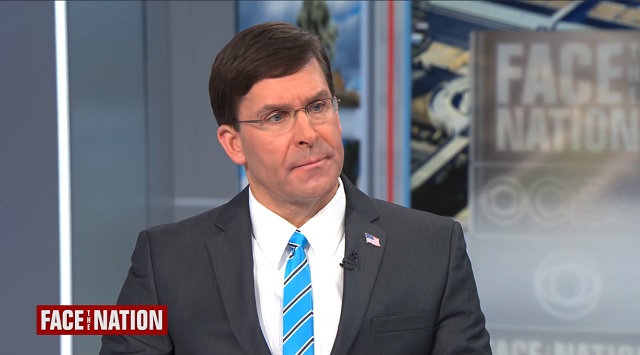 Defense Secretary Mark Esper said Sunday on Face The Nation that he "didn't see" specific evidence showing Iran was planning to attack four U.S. embassies as President Trump claimed last week during an interview with Laura Ingraham.


From The New York Times, "Esper Says He Saw No Evidence Iran Targeted 4 Embassies, as Story Shifts Again":

They had to kill him because he was planning an "imminent" attack. But how imminent they could not say. Where they could not say. When they could not say. And really, it was more about what he had already done. Or actually it was to stop him from hitting an American embassy. Or four embassies. Or not.

For 10 days, President Trump and his team have struggled to describe the reasoning behind the decision to launch a drone strike against Maj. Gen. Qassim Suleimani, the commander of Iran's elite security forces, propelling the two nations to the brink of war. Officials agree they had intelligence indicating danger, but the public explanations have shifted by the day and sometimes by the hour.

On Sunday came the latest twist. Defense Secretary Mark T. Esper said he was never shown any specific piece of evidence that Iran was planning an attack on four American embassies, as Mr. Trump had claimed just two days earlier.

"I didn't see one with regard to four embassies," Mr. Esper said on CBS's "Face the Nation." But he added: "I share the president's view that probably -- my expectation was they were going to go after our embassies. The embassies are the most prominent display of American presence in a country."
National Security Advisor Robert O'Brien was asked Sunday by Chris Wallace why Trump was able to reveal alleged intelligence on Soleimani's plots to Laura Ingraham but not congress.

O'Brein said he'd "love" to show Americans their "very strong" intelligence but to do so would cause them to "lose that valuable stream of intelligence going forward."

"I can tell you they can trust the administration on this," O'Brein said.


Secretary of State Mike Pompeo said Thursday that there was "no doubt" Iranian General Qassem Soleimani was planning "a series of imminent attacks" but they just didn't know precisely "when" or "where."

"There is no doubt that there were a series of imminent attacks that were being by plotted by Soleimani," Pompeo said. "We don't know precisely when and we don't know precisely where -- but it was real."


Follow InformationLiberation on Twitter, Facebook, Gab and Minds.