The Independent: 'Israelis Don't Want to Be America's Pawns in The Middle East Any Longer. We've Suffered Enough'
Chris Menahan
InformationLiberation
Jan. 10, 2020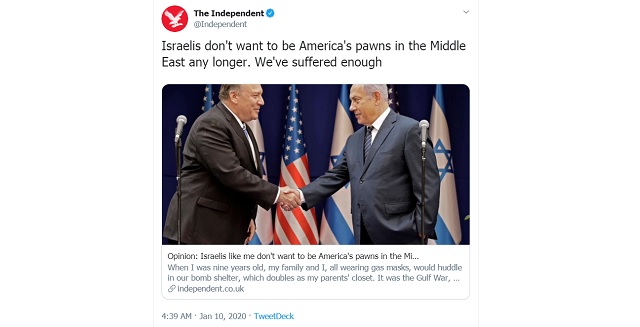 Apologize.


From The Independent:

Israelis don't want to be America's pawns in the Middle East any longer. We've suffered enough

I spent my childhood and my young adulthood in bomb shelters every time America had a spat with one of our neighbors. But the truth is we have so much more in common with Arab countries than with WASPs in New Hampshire

by Etan Nechin, New York
Jan 10, 2020

Israel is one of the US's most reliable and most loyal allies and in the Middle East, US policy is seen as almost synonymous with Israel's. [...]

It was no surprise that this week, as tensions between Iran and the US were higher than they've ever been; as the prospect of another war that would devour the region seemed imminent; as family members from all around the world messaged each other on Whatsapp groups about World War Three, Iran threated to destroy Haifa, my birth town, as revenge against the US. [...]

It seems like Israelis have gotten used to being threatened by proxy, to being the pawns used by others in a larger geopolitical game. [...]

For many Israelis, this is apparent: the language we speak and the culture we hold dear is much closer to our neighbors in Beirut than to the Protestant ethos and mores of the people of New Hampshire. And even as the horrendous conflict continues between Israelis and Palestinians, as well as an occupation, there's still a sense that our fate is dependent upon and alongside our neighbors nextdoor — not with our American allies overseas.
When do we cancel the $38 billion in aid?




Just yesterday, Republican Senator Marco Rubio and Democratic Senator Chris Coons co-sponsored a bill to give Israel another $3.3 billion.


Stop oppressing Israel, America!

Follow InformationLiberation on Twitter, Facebook, Gab and Minds.