'They Are Liars, And They Don't Care About You': Tucker Slams Neocon Shills Pushing War With Iran
Chris Menahan
InformationLiberation
Jan. 02, 2020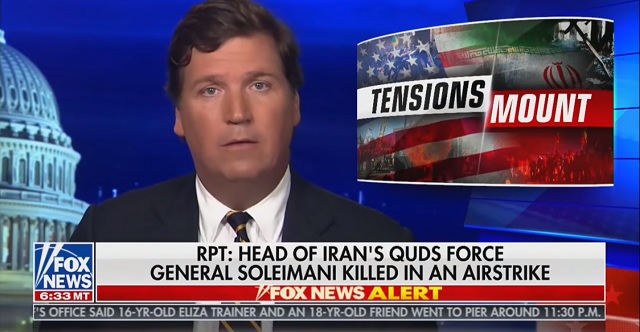 Tucker Carlson was the only mainstream right-winger on TV Thursday night to speak out forcefully against the neocon shills pushing us into war with Iran.

From The Daily Caller:

As news of the death of Iran¡¯s Quds Force General Qasem Soleimani during an airstrike near Baghdad¡¯s airport broke during Thursday night¡¯s broadcasting of ¡°Tucker Carlson Tonight,¡± the Fox News host observed that the United States ¡°appears to be lumbering toward a new Middle East war,¡± one that ¡°official Washington has wanted for decades.¡±

Carlson opined that ¡°disgraced [former] National Security Advisor John Bolton has made it his life¡¯s mission to start a war with Iran¡± and could be ¡°finally getting his wish.¡±
¡°Should you be happy about that?¡± Tucker asked rhetorically. ¡°That¡¯s the question. Well, the last time we took John Bolton¡¯s advice in the region, Iran became far more powerful than before we took John Bolton¡¯s advice. Why? Because things are never quite as simple as they claim they are in Washington.¡±

The Fox News host contended that those ¡°demanding action against Iran¡± are the same people who demand that the American public ignores ¡°the invasion of America now in progress from the South, the millions, the tens of millions of foreign nationals living among us illegally, the torrent, more significantly of Mexican narcotics that has killed and disabled entire generations of Americans.¡±

¡°¡®Pay no attention to all of that,¡¯ these very same people tell us,¡± he concluded. ¡°¡®The real threat is Iran.¡¯ Well, they¡¯re liars, and they don¡¯t care about you, they don¡¯t care about your kids. They are reckless and incompetent, and you should keep all of that in mind as war with Iran looms closer.¡±
The entire neocon establishment and their grift-right servants were absolutely giddy.


Ben Shapiro even admitted it's "more likely" American interests are now going to be attacked but said it was wonderful anyways.



From what I've seen, the vast majority of people oppose this insane escalation but Israel Firsters and boomers are very excited about it.


Fox News was shilling hard for war with Iran just like they did with the war in Iraq and even brought back the same old cast of characters to sell it to the public.


It's 2003 all over again.


Follow InformationLiberation on Twitter, Facebook, Gab and Minds.