ABC News Refuses to Issue On-Air Correction to Fake 'Turkish Bombing' Vid They Showed to Millions
Chris Menahan
InformationLiberation
Oct. 15, 2019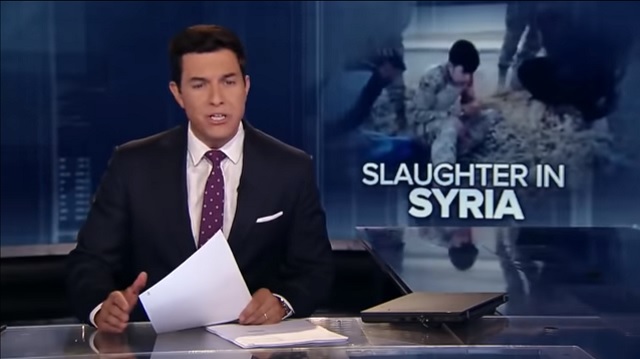 ABC News is refusing to issue an on-air correction to the fake video they put out twice which they claimed showed "Turkey's military bombing Kurd civilians" after being "abandon[ed]" by President Trump.


From NewsBusters:

On Monday, ABC News got caught lying about having a video allegedly showing Turkish troops slaughtering Kurdish civilians in northern Syria, when, in fact, it was video from a gun range in Kentucky. Seemingly thinking a pair of weak apologies on Twitter were enough, the liberal broadcast network refused to correct the record and inform viewers on their journalistic malpractice during that eveningís World News Tonight.


[...] Later that evening, despite anchor David Muir dedicating five minutes and 28 seconds to the fighting in Syria, the network refused to acknowledge their misleading story and correct the record for their millions of viewers. And as the Examiner further reported:

[...] According to TVNewser, for the week of September 30, World News Tonight raked in 8.2 million viewers. For that same week, TVNewser found Good Morning America came in first with 3.7 million viewers. So, itís likely that the show misled millions of people while a fraction of them saw the tweets. Letís see if theyíre saving the on-correction for Tuesday morning.
Nicholas Fondacaro noted Tuesday morning it has been over 24 hours without an on-air correction.


ABC News mislead millions with outright fake news and propaganda on two of their flagship programs but then "corrected" their propaganda with some tweets on the least popular of all the major social media sites.



If it wasn't for Wojciech Pawelczyk catching this hoax and going viral, ABC News' propaganda never would have been exposed and they'd probably still be airing the footage on all their other programs.

Incidentally, the Kurds we "abandoned" have since allied with Assad to fight against Turkey's invasion.

Had they done this on day one rather than hold out for the US to reverse course to please neocons like Lindsey Graham they likely would not have suffered such massive losses from Turkey's blitzkrieg.

Follow InformationLiberation on Twitter, Facebook, Gab and Minds.