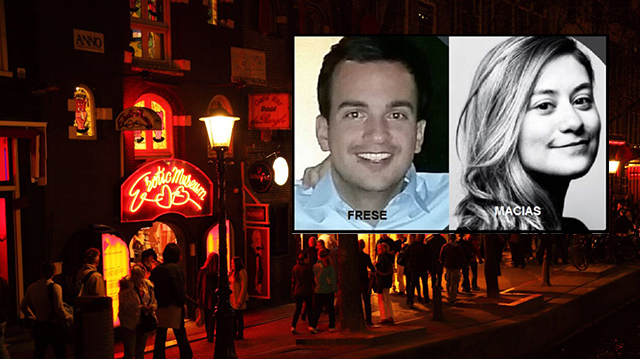 The old "presstitues" meme is turning out to be truer than any of us could have imagined.

From Big League Politics, "Indictment of DIA Analyst Shows How 'Journalists' Sleep With Sources for Juicy Leaks":

Henry Kyle Frese, a 30-year-old employee at the U.S. Defense Intelligence Agency (DIA), has been arrested after being charged with leaking classified data to the media.

Authorities claim that one journalist was apparently sleeping with Frese for the leaks, showing the seedy, sex-driven nature of the fake news industry.

"Frese was caught red-handed disclosing sensitive national security information for personal gain," Assistant Attorney General for National Security John Demers said.

The indictment accuses the reporter who allegedly sexed up Frese of writing eight or more articles based on the information provided by the analyst through the abuse of his top-secret clearance at the DIA.

[...] It was revealed last year that New York Times national security reporter Ali Watkins was sexually involved with at least one powerful man in order to secure her big scoops.

Business Insider reported last year about how the lurid adulteress used her body to obtain privileged information from James Wolfe, the now-imprisoned former head of security at the Senate Intelligence Committee:

Earlier this month, The Times reported that Watkins' personal email and phone communications had been seized by the government as part of an investigation of classified information leaks.

The paper also revealed that Watkins had carried on a three-year romantic relationship with James Wolfe, the 58-year-old longtime head of security at the Senate Intelligence Committee — a senior position responsible for overseeing highly classified information provided to lawmakers from law enforcement and intelligence agencies…

Watkins told friends, who spoke with The Times, that she began dating Wolfe, who is married, in the fall of 2014, several months after she graduated from college when she was working at HuffPost. Wolfe started wooing her when she was a college intern working for McClatchy, giving her a Valentine's Day card and sending her a pearl bracelet as a graduation gift, according to The Times.



Watkins' relationship with Wolfe lasted about three years until August 2017, according to Watkins' friends.

After splitting with Wolfe, Watkins briefly dated another intelligence committee staffer last fall while she was reporting on the committee for Politico, The Times reported on Sunday.

Watkins continues her career as a reporter for the Times, showing how this sort of reprobate behavior is encouraged by the fake news.

It appears Frese may be the latest sucker to pay the price after being seduced by a sleazy amoral journo who will likely move on to her next mark now that he is behind bars.
Journalism is now one of the sleaziest professions on the planet.

Follow InformationLiberation on Twitter, Facebook, Gab and Minds.