Thomas Massie Sole GOP Rep to Vote to Put America First & Reject Anti-Free Speech Anti-BDS Resolution
Chris Menahan
InformationLiberation
Jul. 30, 2019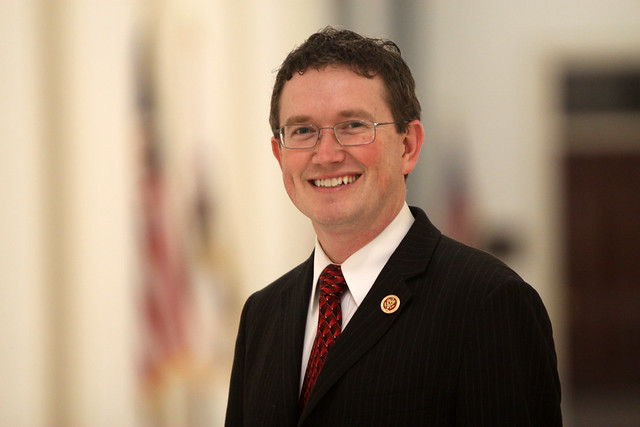 Kentucky Rep Thomas Massie was the sole Republican member of the House to stand up for the American people and vote against an anti-First Amendment, America Last anti-BDS resolution passed overwhelmingly by our sold out congress last week.

From the Jewish News Syndicate:

Kentucky Rep. Thomas Massie, a libertarian, was the only member of the Republican Party to vote against last week's resolution in the U.S. House of Representatives condemning the anti-Israel BDS movement.

Massie, 48, explained his decision in a statement:

I voted against H. Res. 246 because it calls for the full implementation of a bill I voted against back in 2014. That 2014 bill spends taxpayer dollars on "green" energy subsidies for another country, despite the fact that we face a debt crisis of over $22 trillion in the U.S.

In addition, H. Res. 246 calls for Israel to implement a so-called "two-state solution." Rather than dictate to Israel what the U.S. believes is best for Israel, Congress should instead refrain from interfering with Israel's own decisions regarding its foreign and domestic policy.

I also do not support federal efforts to condemn any type of private boycott, regardless of whether or not a boycott is based upon bad motives. These are matters that Congress should properly leave to the States and to the people to decide.
The Republican Jewish Coalition immediately went to work demonizing Massie as an anti-Semite:


JNS continues:

"The bottom line is that Rep. Massie chose not to stand with his Republican colleagues and the American people to speak out, in one voice, against BDS," said Republican Jewish Coalition spokesperson Neil Strauss. "This resolution did not appropriate a single taxpayer dollar; it didn't infringe on a single citizen's civil rights."
This resolution was about pledging support for appropriating billions of US taxpayer dollars to give to Israel (while the US is trillions in debt) and pledging support for another bill restricting Americans' First Amendment right to boycott the state of Israel.
"The intent of this resolution was to reject discriminatory anti-Israel boycotts and to reaffirm the strong U.S.-Israel relationship," said B'nai B'rith International CEO Dan Mariaschin. "Given the overwhelming number of Republicans and Democrats who co-sponsored the resolution, it seems Congressman Massie's views on this legislation are outside the mainstream."
A recent IRmep poll found 75 percent of Americans are against anti-BDS legislation while only 22 percent are in favor.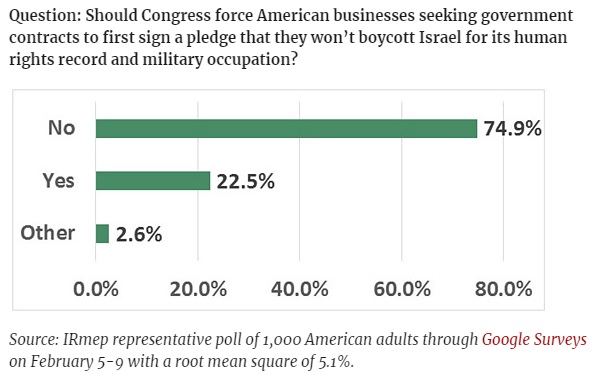 The American people have not been consulted on the issue, nor given the opportunity to vote on the matter.

There is no way in hell the majority of Americans would support forcing all government employees and government contractors to sign a loyalty pledge to a foreign power before being allowed to get a job or a contract.

A federal judge in Texas has already ruled against anti-BDS legislation for violating the First Amendment. Additional, a secret internal memo from the Anti-Defamation League was leaked to the The Forward last year showing they thought "anti-BDS" laws were "unconstitutional" and would be "harmful to the Jewish community" and give "the appearance that the Jewish community exercises undue influence in government." (The ADL has since gotten fully on board with anti-BDS legislation.)

For daring to put America First and stand up for our rights, Massie is likely going to have AIPAC-backed lobbyists pour money into his district in a bid to have him unseated.



The GOP establishment has already indicated they're looking to run anti-gun, establishment Republican Kim Moser against him.

On the flip side, Kentucky Senator Rand Paul -- who has been subject to similar attacks for daring to block a Senate bill to give a record $38 billion from US taxpayer to Israel -- said after the news came out that Massie has his "full support."


Follow InformationLiberation on Twitter, Facebook, Gab and Minds.