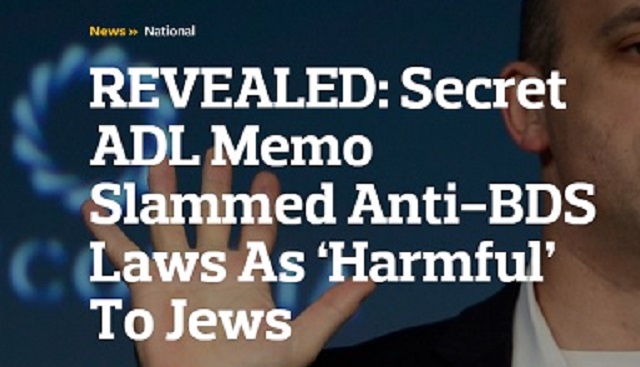 A leaked internal memo reveals the Anti-Defamation League thought "anti-BDS" laws making it illegal to boycott Israel were "unconstitutional" and would be "harmful to the Jewish community" and give "the appearance that the Jewish community exercises undue influence in government," but they backed them anyways, according to a bombshell new report from the Jewish Daily Forward.

From The Jewish Daily Forward, "REVEALED: Secret ADL Memo Slammed Anti-BDS Laws As 'Harmful' To Jews":

The Anti-Defamation League has emerged as a supporter of controversial legislation targeting boycotts of Israel. But internal ADL documents obtained by the Forward show that the organization's own staff believed the laws could actually harm American Jews.

In the summer of 2016, ADL staff wrote an internal memo arguing that legislating against the boycott, divestment and sanctions movement was a really bad idea. "Simply put, ADL does not believe that anti-BDS legislation is a strategic way to combat the BDS movement or defend Israel and is ultimately harmful to the Jewish community," the memo reads. It calls anti-BDS laws "ineffective, unworkable, unconstitutional, and bad for the Jewish community."

Yet in the two years since the memo was written, the ADL has vigorously supported anti-BDS legislation, including one bill currently moving through the U.S. Congress, and some of those that have passed in statehouses across the country.

[...]The anti-BDS bill moving through Congress appears to be close to passing.[...]

Its supporters are trying to get it through before the end of the year as part of a spending bill, according to a report in The Intercept. [...]

The documents attack the anti-BDS laws as unconstitutional, bad policy, and generally bad for the Jews. The first document, titled "ADL'S POSITION ON ANTI-BDS LEGISLATION," says that the anti-BDS laws are bad for American Jews, diverting "community resources to an ineffective, unworkable, and unconstitutional endeavor instead of investing in more effective multi-layered strategies." It says that bills raise the profile of the BDS movement while giving "the appearance that the Jewish community exercises undue influence in government."

The memo argues that the model many state-level laws have followed, of identifying companies that boycott Israel and then banning financial ties between them and state governments, was unworkable, since it would be difficult to prove why a particular company wasn't doing business with Israel.

It says that government investigation into the reasons why a particular company isn't doing business with Israel "would represent a significant government intrusion."

It goes on to argue that a decision to boycott a country, "as despicable as it may be in the case of Israel," is constitutionally protected as a form of political speech.

"Anti-BDS bills often are portrayed as 'McCarthyistic' attacks on free speech and democratic values," the document reads. "In turn, they give more attention to BDS supporters and turn them into First Amendment martyrs."
Imagine if these laws were making it illegal to boycott Russia. It wouldn't get one vote and anyone who signed onto it would be labeled a traitor.

This bill has 58 co-sponsors in the Senate -- a mix of Republicans, Democrats and Independents -- and is looking like it's going to pass.

These corrupt Senators can't agree on doing anything to actually help America, yet they're all fully on board with passing a blatantly unconstitutional law which will criminalize boycotting the foreign nation of Israel.

A search of Google News shows that despite this report being out for 17 hours not one single publication has picked the story up.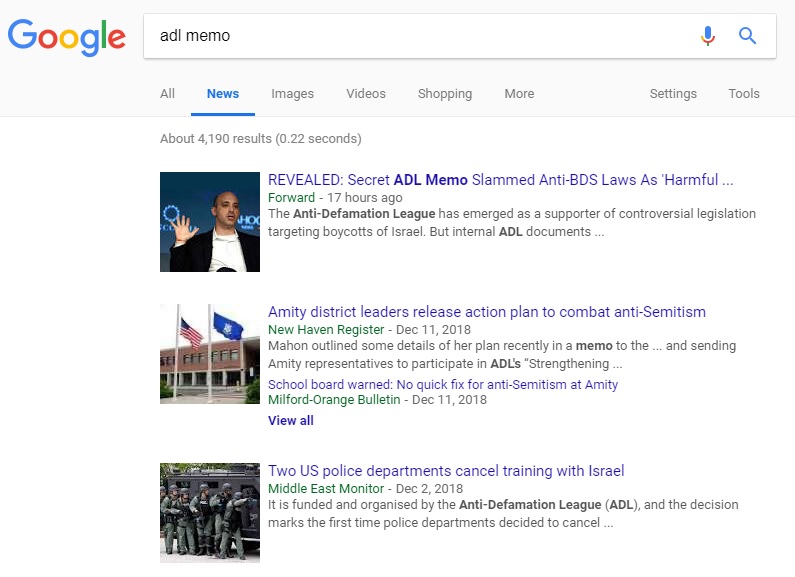 Follow InformationLiberation on Twitter, Facebook, Gab and Minds.