Tulsi Gabbard Sues Google For Blocking Her From Advertising After Breakout Debate
Chris Menahan
InformationLiberation
Jul. 25, 2019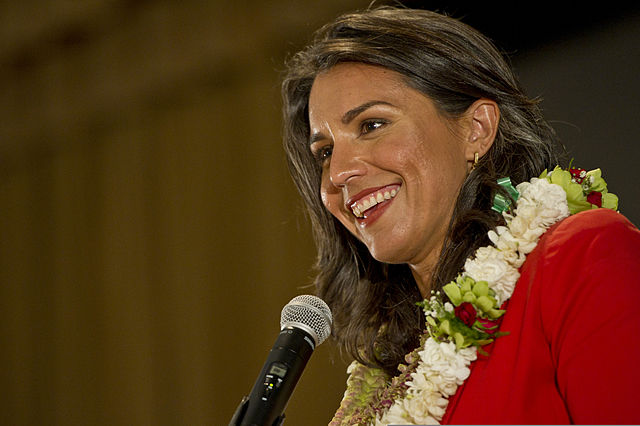 Google just so happened to suspend Tulsi Gabbard's campaign account from advertising immediately after she won the first Democratic debate.

They restored her account six hours later -- after search interest had died down -- and claimed their "automated systems" flagged their account for "unusual activity."

"No other campaigns have publicly claimed that Google has suspended their advertising accounts," The New York Times reported.



From New York Times:

Representative Tulsi Gabbard, the long-shot presidential candidate from Hawaii, said in a federal lawsuit that Google infringed on her free speech when it briefly suspended her campaign's advertising account after the first Democratic debate in June.

The lawsuit, filed on Thursday in a federal court in Los Angeles, is believed to be the first time a presidential candidate has sued a major technology firm.

In a twist that reflects Ms. Gabbard's unorthodox political views, the claim that her speech was stifled by Google is similar to complaints made over the last year in Republican circles. Few Democrats have raised similar concerns.
That's because they don't threaten the system in any way.
Tulsi Now Inc., the campaign committee for Ms. Gabbard, said Google suspended the campaign's advertising account for six hours on June 27 and June 28, obstructing its ability to raise money and spread her message to potential voters.

After the first Democratic debate, Ms. Gabbard was briefly the most searched-for candidate on Google. Her campaign wanted to capitalize on the attention she was receiving by buying ads that would have placed its website at the top of search results for her name.
This was her big opportunity to get her name out there as a maverick candidate and Google killed it.


Is this really just a coincidence?

The lawsuit also said the Gabbard campaign believed its emails were being placed in spam folders on Gmail at "a disproportionately high rate" when compared with emails from other Democratic candidates.

"Google's arbitrary and capricious treatment of Gabbard's campaign should raise concerns for policymakers everywhere about the company's ability to use its dominance to impact political discourse, in a way that interferes with the upcoming 2020 presidential election," the lawsuit said.

Ms. Gabbard and her campaign are seeking an injunction against Google from further meddling in the election and damages of at least $50 million.

Google has automated systems that flag unusual activity on advertiser accounts -- including large spending changes -- to prevent fraud, said Jose Castaneda, a spokesman for the company.

"In this case, our system triggered a suspension and the account was reinstated shortly thereafter," he said. "We are proud to offer ad products that help campaigns connect directly with voters, and we do so without bias toward any party or political ideology."

No other campaigns have publicly claimed that Google has suspended their advertising accounts.
These "technical glitches" almost always just so happen to work in favor of the establishment and never against it.

Even if this was some sort of glitch, which I doubt it was considering who runs Google, just through their somewhat public search algorithms they've effectively censored every alt-media website that is pro-Tulsi while artificially promoting outlets like the New York Times and CNN which smear her as a Russkie agent.



This is election interference on a level we've never before seen. The fact congress hasn't moved against Big Tech for interfering in our elections after they just wasted three years getting everyone riled up about fake Russian collusion/meddling conspiracy theories is criminal.

Follow InformationLiberation on Twitter, Facebook, Gab and Minds.