YouGov Poll Finds Half Of Voters Support Trump's 'Go Back' Tweets; Reuters Poll Finds Trump's Numbers Rose Among R's
Chris Menahan
InformationLiberation
Jul. 17, 2019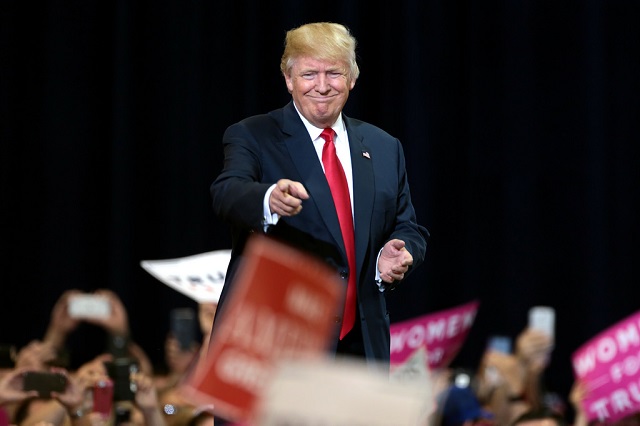 A new poll from YouGov found half of registered voters said that Trump's tweet recommending the progressive squad "go back and help fix the totally broken and crime infested places from which they came" was either "great, good or okay."

The margin of error is plus or minus 3.3 percent according to their own weighting. Realistically, it's probably at least double that considering the media-manufactured social pressure to disagree with his statement.




From Reuters, "Republican support for Trump rises after racially charged tweets: Reuters/Ipsos poll":

Support for U.S. President Donald Trump increased slightly among Republicans after he lashed out on Twitter over the weekend in a racially charged attack on four minority Democratic congresswomen, a Reuters/Ipsos public opinion poll shows.

The national survey, conducted on Monday and Tuesday after Trump told the lawmakers they should "go back and help fix the totally broken and crime infested places from which they came," showed his net approval among members of his Republican Party rose by 5 percentage points to 72%, compared with a similar poll that ran last week.

[...] Among independents, about three out of 10 said they approved of Trump, down from four out of 10 a week ago. His net approval - the percentage who approve minus the percentage who disapprove - dropped by 2 points among Democrats in the poll.

Trump's overall approval remained unchanged over the past week. According to the poll, 41% of the U.S. public said they approved of his performance in office, while 55% disapproved.
Though Trump hasn't managed to do much on the policy front and immigration levels are higher than ever, there's no question he's dramatically shifted the Overton window.






Nearly all the Republicans in the House (except four) on Tuesday even voted against Nancy Pelosi's resolution to condemn Trump's "racist" tweets.



Follow InformationLiberation on Twitter, Facebook, Gab and Minds.