Trump Took Tucker Carlson to North Korea, Sent John Bolton to Mongolia
Media Matters and Sleeping Giants target Tucker Carlson and push advertiser boycott after peace talks resume.
Chris Menahan
InformationLiberation
Jul. 01, 2019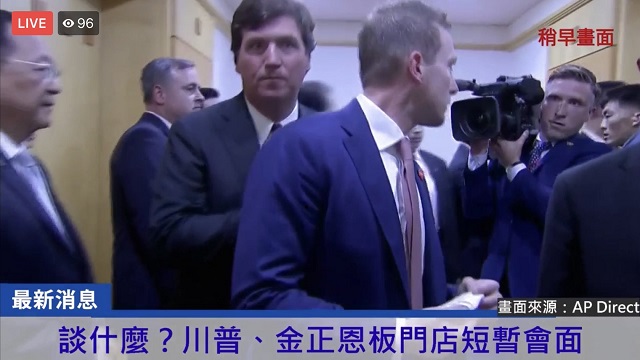 President Donald Trump resumed peace talks with North Korea over the weekend after bringing Tucker Carlson along with him to the DMZ and sending John Bolton off to Mongolia.

Media Matters and Sleeping Giants went straight to attacking Carlson after hearing the news.

From TPM, "Trump Took Fox News Tucker Carlson, Not John Bolton, To North Korea":

President Donald Trump brought Fox News host Tucker Carlson to North Korea on Sunday instead of his own national security adviser, John Bolton.

Several journalists reported seeing Carlson on the sidelines of Trump's historic visit to the the demilitarized zone separating North and South Korea, and the hosts of "Fox & Friends" confirmed Carlson was there during a phone interview with him.


Meanwhile, Bolton was shipped off to Mongolia over the weekend.
Trump and Kim agreed to resume peace talks and North Korean media described their meeting at the DMZ as "an amazing event."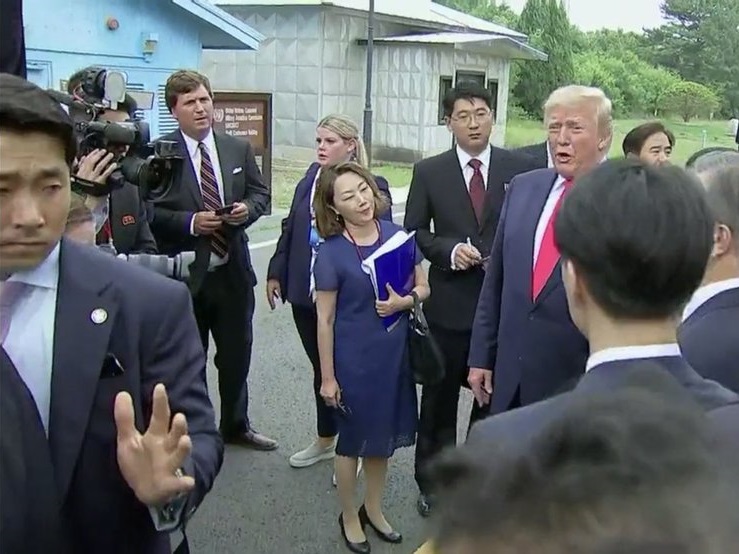 From the AP, "NKorea's state media calls DMZ meeting 'amazing' ":

North Korea's state media is describing leader Kim Jong Un's meeting with President Donald Trump at the Demilitarized Zone as "an amazing event" in the border village it notes is a symbol of the Korean Peninsula's division.

The Korean Central News Agency reports that the two leaders expressed great satisfaction over the results of their talks. Also included in the state media report is a description of Kim exchanging "warm greetings" with South Korea's president, Moon Jae-in.

Trump and Kim agreed to restart negotiations designed to denuclearize the Korean peninsula, a point included in the state media recap of the event.
Neocons/neolibs are absolutely seething over Carlson allegedly privately convincing Trump not to attack Iran and now is possibly helping him resume peace talks with North Korea.

Media Matters propagandist Lis Power attacked Carlson for factually pointing out that the US allies with plenty of countries whose leaders kill people and commit atrocities:


(Here's the full interview Carlson gave to Fox News on Sunday.)

Via TPM:

While speaking to his Fox colleagues, Carlson defended Trump's friendliness with the brutal North Korean dictator.

"[North Korea]'s a disgusting place, obviously. So there's no defending it," Carlson said. "On the other hand, you've got to be honest about what it means to lead a country. It means killing people."

"Not on the scale that the North Koreans do, but a lot of countries commit atrocities, including a number that we're closely allied with," he continued.

Trump called the visit "a great honor" and has invited Kim to come to the U.S.
Notice how these fake so-called "liberals" are all on board with neocon warmongering/regime change operations?

Matt Rivitz's advertiser boycotting operation "Sleeping Giants" also went to work attacking Carlson for threatening the war machine:




As I reported last week, DC antifa doxed Carlson's family home after he spoke out against war with Iran and may have convinced Trump not to go through with an attack.


It sure is amazing how the actions of these so-called "leftist" groups just so happen to align perfectly with the interests of the ruling neocon/neolib power structure in Washington.

Follow InformationLiberation on Twitter, Facebook, Gab and Minds.