Report: Tucker Carlson Privately Advising Trump Against War With Iran
Chris Menahan
InformationLiberation
Jun. 19, 2019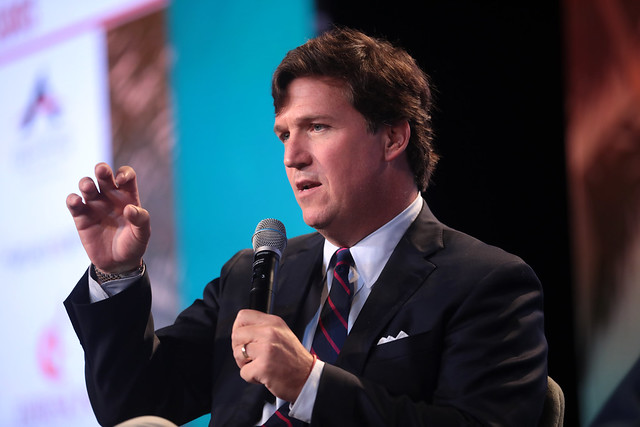 Tucker Carlson is saving America from another neocon war, if this report from the Daily Beast is to be taken seriously.

From The Daily Beast, "Tucker Carlson Is Privately Advising Trump on Iran":

In the upper echelons of the Trump administration, hawkish voices on Iran predominate -- most notably Secretary of State Mike Pompeo and National Security Adviser John Bolton. But as tensions between the U.S. and Iran have escalated over the last few weeks, there's been another, far different voice in the president's ear: that of Fox News host Tucker Carlson.

A source familiar with the conversations told The Daily Beast that, in recent weeks, the Fox News host has privately advised Trump against taking military action against Iran. And a senior administration official said that during the president's recent conversations with the Fox primetime host, Carlson has bashed the more "hawkish members" of his administration.
The Daily Beast seemed very angry that Tucker may be helping stop this war.

Just look at the picture they chose for this piece:


The whole premise of the piece seems to be that Trump is listening to a "Fox News host" rather than "experts" in the government like John Bolton and Mike Pompeo.

Writing of the attacks on two tankers in the Gulf of Oman last week, they also noted that "Chancellor Angela Merkel said on Tuesday that there was 'strong evidence' pointing to Iran."

Late last week, two oil tankers moving through the Strait of Hormuz -- one Norwegian and the other Japanese -- were attacked. There were no casualties, and no evidence of oil spills. But the images of smoke pouring out of the sides of the hulking ships shocked the world and sent oil prices soaring. The Trump administration and the British government quickly attributed the attacks to the Iranians. German Foreign Minister Heiko Maas initially said that U.S. evidence was "not enough" to show Iran was responsible for the attack. But Chancellor Angela Merkel said on Tuesday that there was "strong evidence" pointing to Iran.

Some Trump allies responded to the tanker attacks with calls for military action. Sen. Tom Cotton, an Arkansas Republican, told CBS' Margaret Brennan that the moves justify military retaliation.

The president, meanwhile, took a vastly different tone -- less Cotton, more Carlson. In a Time interview published Monday evening, he dismissed the oil tanker attacks, saying, "So far, it's been very minor."
How dare he listen to the greatest voice of reason and voice for peace on all of television instead of the greatest traitor in Europe and the lying neocon scumbags he's surrounded himself with!

[Image by Gage Skidmore, CC BY-SA 2.0.]

Follow InformationLiberation on Twitter, Facebook, Gab and Minds.