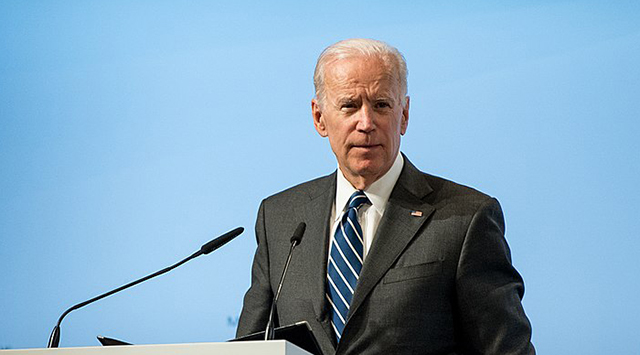 Democratic 2020 presidential frontrunner Joe Biden told a group of wealthy billionaire and multi-millionaire donors at a fundraising event Monday in New York that "nothing would fundamentally change" if he were to win the presidency.

From Common Dreams:

Don't worry, billionaires: your standard of living won't change under a Joe Biden administration. 

That's the message the Democratic frontrunner delivered to donors Tuesday as he continued a fundraising trip in New York that saw him on Monday tell a room of wealthy Wall Streeters "you guys are great" and ask a Trump-loving supermarket magnate for support. 

In Biden's comments Tuesday, the former vice president told a room of 100 of the New York financial elite, including bankers Robert Rubin and Roger Altman, both of whom worked in the Treasury Department under Democratic administrations, that he wasn't their enemy. According to Bloomberg reporter Jennifer Epstein, Biden took pains to separate himself from the rest of the field in his comments.

"Remember, I got in trouble with some of the people on my team, on the Democratic side, because I said, you know, what I've found is rich people are just as patriotic as poor people," said Biden. "Not a joke. I mean, we may not want to demonize anybody who's made money."

But, said Biden, their taxes might have to be raised a little to achieve some of his legislative goals--though he assured the members of the 1 percent in attendance at the Upper East Side Carlyle Hotel that under his plan, the increase wouldn't even be noticeable.

"The truth of the matter is, you all, you all know, you all know in your gut what has to be done," said Biden. "We can disagree in the margins but the truth of the matter is it's all within our wheelhouse and nobody has to be punished."

"No one's standard of living will change," said Biden. "Nothing would fundamentally change."
I appreciate his honesty.

Nothing ever changes.

It would be nice if he just leveled with the American people on that instead of hiding the truth behind closed doors.

Here's some more of the attendees via Bloomberg:

Steven Rattner, who led the Obama administration's Presidential Task Force on the Auto Industry, was also there. Biden worked on the auto bailout effort and often mentions it on the campaign trail.

Also at the fundraiser: Stephen Scherr, executive vice president and chief financial officer of Goldman Sachs Group; Rodgin Cohen, senior chairman of the law firm Sullivan & Cromwell LLP; Stan Shuman, senior adviser of Allen & Co. LLC; and Jane Hartley, former U.S. ambassador to France and Monaco.

The event was hosted by Eric Mindich, chief executive officer and founder of Eton Park Capital Management LP , and his wife Stacey Mindich. The couple had planned to hold the fundraiser at their home but it drew so much attention that they needed to move it to a larger space, Eric Mindich told the crowd of about 100.

Rattner is chairman and chief executive officer of Willett Advisors LLC, which manages the philanthropic assets of Michael R. Bloomberg, who is the founder of Bloomberg LP, which operates Bloomberg News.
Perhaps America needs a new America First Party similar to the Brexit Party if we truly want change for the better.

Follow InformationLiberation on Twitter, Facebook, Gab and Minds.