Intellectual Dark Web Founder Eric Weinstein Turns On Jordan Peterson For Meeting With Viktor Orban
Chris Menahan
InformationLiberation
Jun. 03, 2019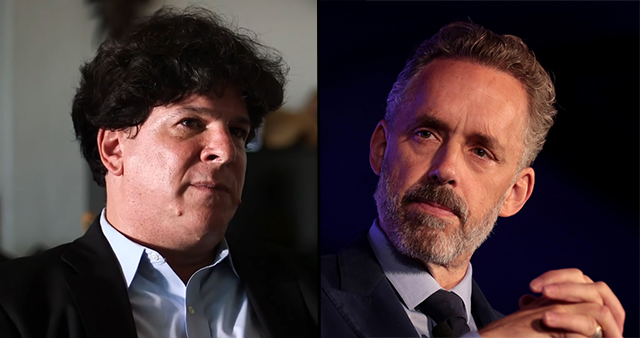 Intellectual Dark Web founder Eric Weinstein threw a fit Sunday on Twitter after learning that Jordan Peterson met with Hungary's hugely popular nationalist prime minister Viktor Orban.


Hungary Journal reported on the meeting last week:

On Thursday morning, in the Carmelite Monastery Prime Minister Viktor Orban received Canadian political scientist, Professor of Psychology Jordan Peterson who arrived in Budapest as a guest of the Brain Bar Festival to be held on 30-31 May.

At the informal meeting of the renowned Canadian scholar and the Hungarian prime minister, the parties discussed current political issues such as illegal immigration which they both described as unnecessary and dangerous, and political correctness which, in their view, thwarts meaningful debates in public life, and is additionally ďan invention of a small group of ideologically motivated peopleĒ.

At the meeting, Orban and Peterson spoke about the recent phenomenon that the horrors of communism appear to be losing in significance. In this context, they recalled President of the European Commission Jean-Claude Junckerís speech seeking to find excuses for Karl Marx which they described as shameful and shocking.
Peterson also reportedly spoke out against the dangers of multiculturalism and Islam:

Peterson explained that the world Ė in general Ė is multicultural, itís full of wars and destruction, so it wouldnít be wise to import all of this into our societies.

He told daily Magyar Nemzet that thereís no proof that Islam is compatible with democracy and that he couldnít mention a positive example of a successful, independent muslim democracy.
Weinstein was aghast.

"I'm feeling like I missed a meeting," Weinstein said. "Jordan Peterson, when your family situation permits it, I'd be happy to discuss or even debate the ethics here."

"Doc, you lost me on this one. Orban isn't simple ethical restrictionism and doesn't fit anything I know of your actual politics," he whined.


"[The Intellectual Dark Web] is supposed to give people an option to avoid BOTH right & left extremes," Weinstein said. "The purpose of fighting authoritarian PC is not to lurch to the Identitarian Right to avoid the Identitarian Left. It's to avoid needs for any authoritarians."

"We're supposed to be giving alternatives," he said.


Weinstein went on to accuse Orban of being an antisemite:




Does Jordan Peterson need Weinstein's permission to speak with world leaders? Why is he behaving like he's Peterson's handler?

Jordan Peterson can talk with radical, hate-filled MSM propaganda outlets which lie nations into war but it's "unethical" for him to talk with the hugely popular, democratically elected president of Hungary because Eric Weinstein doesn't like his positions on immigration and suspects he might be an antisemite?

Does that mean Weinstein is fine with all the positions of our controlled media?

I thought the "Intellectual Dark Web" were supposed to be champions of free speech and open debate? It seems like in practice they actually just act like establishment gatekeepers.

Follow InformationLiberation on Twitter, Facebook, Gab and Minds.