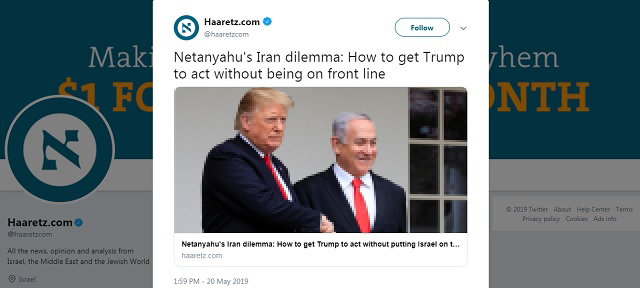 The Israeli newspaper Haaretz ran a piece on Monday saying that Israeli Prime Minister Benjamin Netanyahu's "Iran dilemma" is "how to get Trump to act without putting Israel on the front line."


From Haaretz, Amos Harel, "Netanyahu's Iran Dilemma: Getting Trump to Act Without Putting Israel on the Front Line":

Ever since Trump was elected president two and a half years ago, Netanyahu has been urging him to take a more aggressive line toward Iran [...]

Trump acceded to this urging a year ago when he withdrew America from the nuclear agreement with Iran. That was followed by tighter sanctions on Iran, as well as publication of a plan by U.S. Secretary of State Mike Pompeo detailing 12 steps Tehran must take to satisfy Washington.

But Israel isn't interested in being part of the front. That is why Jerusalem has issued so few official statements on the Iranian issue, and why Netanyahu has urged ministers to be cautious in what they say.
On Sunday, Haaretz's Chemi Shalev wrote an article saying Netanyahu will be the "prime suspect" if the US goes to war with Iran.


From Haaretz, "If the U.S. Goes to War With Iran, Netanyahu Will Be the Prime Suspect":

Prime Minister Benjamin Netanyahu is the only world leader to openly express support for the escalating U.S. campaign against Iran, but his statement is an exception to the general Israeli rule. In the two weeks that have passed since the U.S. announced it was reinforcing its military presence in the Persian Gulf, official Israel has mostly taken on a vow of silence. "Luckily, we are not involved," naively optimistic defense officials briefed reporters.

The attempt to distance itself from an American military operation in the Middle East, as if Israel was merely a fan sitting in the bleachers cheering its favorite team, inevitably sparks analogies to Yitzhak Shamir's policy of restraint in the 1991 Gulf War and Ariel Sharon's similar attitude during the 2003 war in Iraq. [...]

In public testimony before the Government Reform Committee of the House of Representatives in 2002, Netanyahu assured American lawmakers that Saddam either had nuclear weapons or was on the verge of acquiring them, with the help of hidden centrifuges "no bigger than washing machines." Deposing Saddam, Netanyahu promised, would do wonders for the Middle East as a whole. [...]



But even without his damning testimony from the past, and even if Netanyahu doesn't say another word, if war breaks out between the U.S. and Iran, he will be named as the prime suspect as far as its opponents are concerned. Netanyahu, with the assistance of like-minded allies in the U.S. and the Middle East, persuaded Donald Trump to abandon Barack Obama's nuclear deal with Iran. Netanyahu convinced Trump that a combination of crippling economic sanctions and a credible military threat will force Tehran to beg for a new and improved nuclear deal, which will include its malevolent regional activities which were not addressed in "Obama's deal". And given that countries such as Saudi Arabia and the United Arab Emirates are far more belligerent towards Iran in private than they are in public, Netanyahu became a one-man cheerleading squad for Trump's latest moves.
The Iranians tweeted out Netanyahu's 2002 testimony which helped launch the war in Iraq just last week.


They also tweeted out the recent story from Axios ("Israel passed White House intelligence on possible Iran plot") about how the US got the so-called "intelligence" about Iran "plotting attacks" against US forces in the Gulf from Israel.


They also pointed out how Campaign Trump correctly stated "Iran is killing ISIS."


We also know President Trump said late last year he'd like to pull out of the Middle East entirely but Israel is "one reason" to stay. Trump also said he supports the Saudis because they provide a "counterbalance to Iran" and "without them, Israel would be in a lot more trouble."


Follow InformationLiberation on Twitter, Facebook, Gab and Minds.