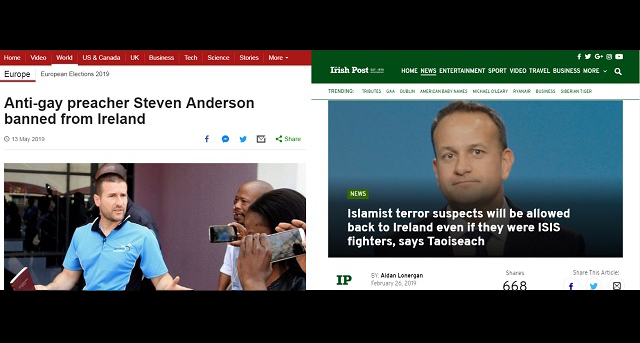 Controversial pastor Steven Anderson of the Faithful Word Baptist Church in Tempe, Arizona has become the first person ever to be banned from Ireland under a 20-year-old exclusion law.

From BBC News, "Anti-gay preacher Steven Anderson banned from Ireland":

A controversial US preacher has become the first person to be banned from Ireland under a 20-year-old power.

Steven Anderson, a pastor from Arizona, runs the Faithful Word Baptist church and openly expresses anti-gay and anti-Semitic views.

His website claimed that he was due to preach in Dublin on 26 May.

[...] Irish Minister for Justice Charlie Flanagan signed an exclusion order for Mr Anderson with immediate effect on 10 May under the Immigration Act 1999.

It is the first time an exclusion order has been granted since the creation of the act 20 years ago.

[...] Mr Flanagan said he had signed the order "under my executive powers in the interests of public policy".
Anderson responded to the ban on YouTube, saying Ireland is the "32nd country that I am banned from, so I am on a roll this month."

"I feel great," Anderson said. "God's gonna punish these countries. Here they are rejecting God's Word, going a path of wickedness, and then the pastors in these countries most of the time don't have the guts to preach what the Bible actually says."

"They're watered down, they're liberal, they're lame and then when a real man of God actually tries to show up and preach he gets banned."



Anderson also shared a meme on Facebook celebrating being the "first person ever banned from Ireland."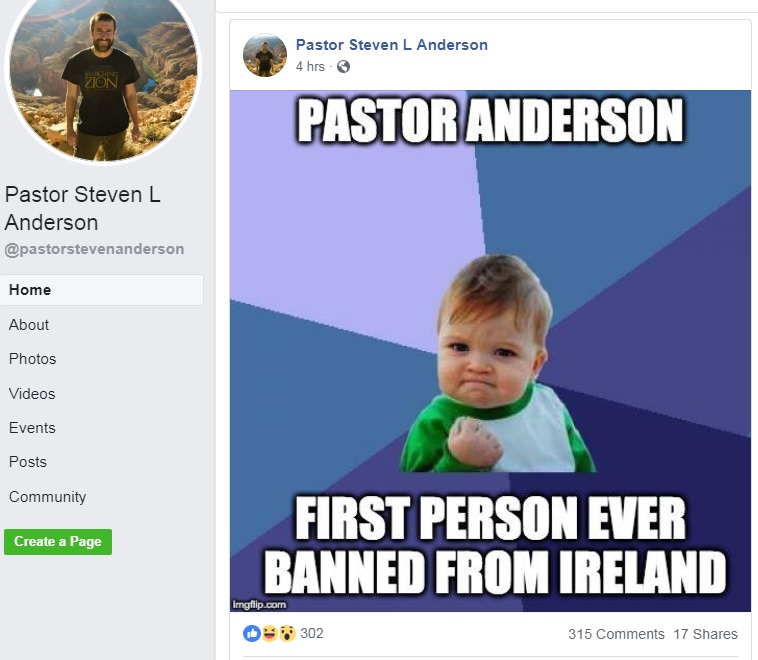 As I reported in April, Anderson said Bank of America shut down all of his church's bank accounts.

While Anderson was banned from Ireland over his anti-gay views, Muslim preachers who not only preach that homosexuality should be punishable by the death penalty but also endorse female genital mutilation have been allowed into Ireland without any issues.

As TheJournal.ie reported in March 2018:

Imam Ibrahim Noonan, who is based in Galway, is concerned about certain speakers preaching in mosques around Ireland. He said some of these people are "renowned for their extremism".

"They have been coming here and they have been lecturing here. I can't understand how the government allowed it. OK, they had British passports, but they're here. I mean everyone knows it, everyone involved in Islam in Ireland knows they're here and that they're spreading their hate here."

[...] Concerns have been raised about some preachers who have been invited to speak at the mosque in Clonskeagh, due to their views on certain issues. One speaker in particular has been accused of making anti-Christian statements and defending female genital mutilation (FGM).

[...] [Dr Ali Selim, of the Islamic Cultural Centre of Ireland (ICCI) in Clonskeagh which is home to Ireland's largest mosque] himself came under fire last month after saying female circumcision is acceptable in some cases. He later apologised, saying he misunderstood the term 'circumcision' and condemns FGM "in the strongest terms". [...]
There have long been rumours that the mosque in Clonskeagh is connected to the Muslim Brotherhood. The mosque's imam, Shaykh Hussein Halawa, has always denied this.

Documents published by Wikileaks in 2011 show that the US Embassy in Dublin had concerns about this possible link, as well as "radical" people supposedly meeting at the mosque.

The cable, written in July 2006 by then-US ambassador James Kenny, also discussed the European Council for Fatwa and Research (ECFR), whose general secretariat is based in Clonskeagh.

The ECFR is chaired by Qatar-based Egyptian cleric Yusuf al-Qaradawi, 91, who has links to the Muslim Brotherhood. Al-Qaradawi previously said homosexuality should be punishable by death, and that a husband "lightly" beating his wife is acceptable as a last resort.

When asked about some of Al-Qaradawi's controversial views, Selim said: "People only focus on certain opinions he expressed. They overlook most of his opinions.

"You and I will never agree on everything. The fact we disagree on certain matters does not disqualify you from being a scholar, it does not disqualify you from contributing positively to what we are talking about. It does not mean we have to adopt everything you are saying … Your contribution is of great value because you are a scholar."

Selim said the cable from the US Embassy was full of errors, adding that the US's views can't be trusted. "The Americans told us that Iraq had chemical weapons. They invaded Iraq and they said they did that because they believed they had chemical weapons. Iraq did not have chemical weapons. What level of credibility can they have after that?," he said.

When asked if there is any link whatsoever between the mosque and the Muslim Brotherhood, Selim gives a definitive: "No."

He said the fact people keep asking that question, despite the mosque having answered it on a number of occasions, classifies as "Islamophobia". "People ask these questions and, when we answer, if it's the answer that they want then that's it, but if it's the answer that they don't want then they don't believe us. I think it puts us in a very difficult situation, it makes us feel that we have been victimised."
The Irish Post reported in February that Ireland's Prime Minister Leo Varadkar announced that ISIS fighters will be allowed to return to Ireland "even if they fought for terror groups such as Islamic State."

Interesting how that works.

Follow InformationLiberation on Twitter, Facebook, Gab and Minds.