STEM Students Walk Out After Dem Vultures Turn Prayer Vigil Into Anti-Gun Campaign Event
Chris Menahan
InformationLiberation
May. 09, 2019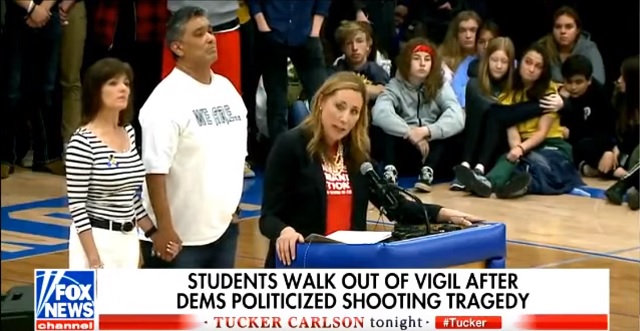 Students walked out of a prayer vigil on Wednesday at Highlands Ranch High School -- which everyone assumed was being held to honor the victims and heroes of Tuesday's shooting -- after Democrat vultures hijacked the event to push for gun control and play politics.

On Tuesday, nine students were shot reportedly by two shooters at STEM School Highlands Ranch in Douglas County, Colorado. One of the alleged shooters was in the process of "transitioning to male" according to police and the other allegedly spraypainted his car with a pentagram on the hood, "666" and "F**k society." He also said on Facebook that he hated Christians who "hate gays."



Three students heroically fought back against the shooters and one of them, Kendrick Castillo, tragically died.



The Federalist reports: "In response to the shooting, a public vigil was announced at another local public high school: Highlands Ranch High School. It was sponsored by the gun control groups Brady's Team Enough and March for Our Lives and featured Democratic politicians who seek limits on Second Amendment gun rights, but was billed instead as an event to remember and honor Castillo and other victims. As the politicians called for gun control, students left in protest over the politicization of the deaths and injuries."

Here's video from the event:





Moms Demand Action's Laura Reeves gave this disgusting performance:


These are sick, twisted people, folks.


These kids wanted to grieve and talk about the real problems in our society which are driving kids insane and yet these leftist vultures just wanted to exploit their tragedy to push their unAmerican political agenda.



Let's hope this will be a watershed moment.

Follow InformationLiberation on Twitter, Facebook, Gab and Minds.