WashPo Deflects Blame From Themselves After Running With Smollett Hoax
Chris Menahan
InformationLiberation
Feb. 21, 2019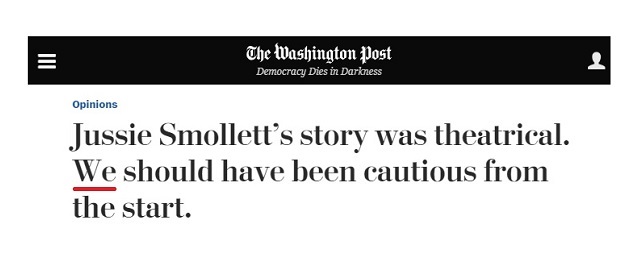 The reactions to Jussie Smollett's arrest for allegedly staging a hate hoax against himself have been truly hilarious.

The New York Times decided on Thursday to headline an article about the white on black lynching of Emmett Till 64 years ago.


Meanwhile, The Washington Post dropped this gem:


"...We should have been cautious from the start..."


Pretty much everyone except the media, every top Democrat seeking to run in 2020 and the Twitterati suspected this was a hoax from the very beginning. Nonetheless, "we" all should have been more cautious!

The article itself is from Megan McArdle, who actually writes some good stuff. I suspect the editors at the Washington Post decided on the headline for her.

Follow InformationLiberation on Twitter, Facebook, Gab and Minds.